The best athletes on the red carpets win even over supermodels
23 Jun 2023
These incredible athletes have risen to the top of their sport, showcasing their extraordinary talent. However, the eyes of spectators and fans are fixed on them not only on the playing fields, but also on the red carpets. After all, each of them can confidently compete with the best supermodels in the world. Do not believe? Then just look at how they look at social events!
Eugénie Bouchard — Tennis
Eugénie Bouchard, a prominent Canadian tennis player, has undoubtedly left her mark in the world of tennis. In 2014, she achieved a remarkable milestone by becoming the first Canadian-born player to reach the singles final of a Grand Slam tournament, specifically the Wimbledon Championships, while representing Canada. Bouchard's exceptional talent and determination also propelled her to the semifinals of the 2014 Australian Open and the 2014 French Open. Furthermore, her earlier triumph at the 2012 Junior Wimbledon championship earned her the prestigious title of WTA Newcomer of the Year at the conclusion of the 2013 WTA Tour. Bouchard's achievements on the court have solidified her status as a household name in the world of tennis.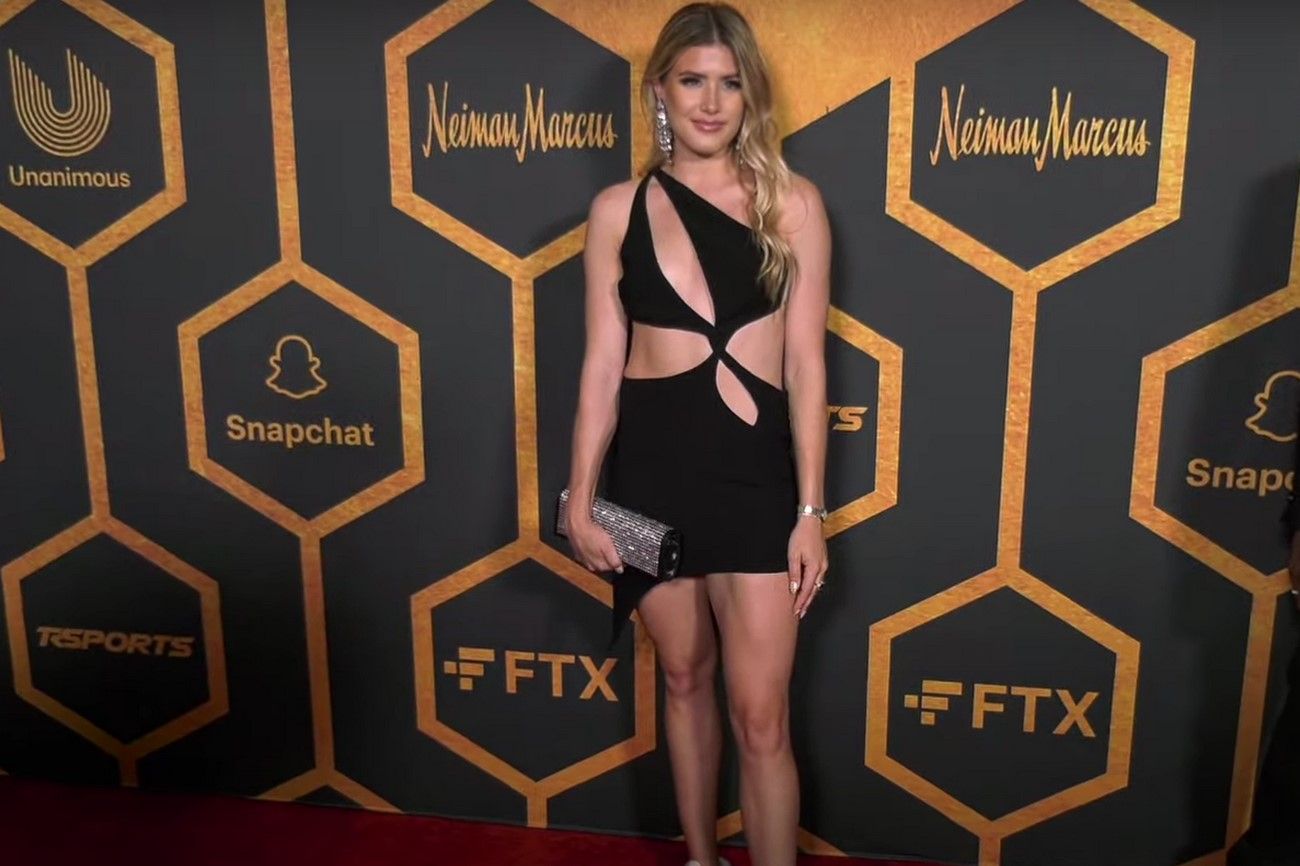 @Eugenie Bouchard "Stephen Curry's ESPYs Afterparty" Red Carpet Fashion/MaximoTV/YouTube.com
Gina Carano — MMA
Popularly known as "Crush," Gina Carano gained recognition as a prominent figure in women's MMA even before Ronda Rousey's rise to fame. Starting her journey with Muay Thai training, Carano transitioned to competitive MMA and made a notable impact in organizations like Strikeforce and EliteXC. Apart from her achievements in the fighting arena, Carano also made a name for herself as a model, appearing in renowned publications such as ESPN The Magazine and Maxim. After retiring from active competition, she successfully ventured into the realms of television and film. Carano's influential status was further validated by her ranking as the fifth most influential woman in 2008. Her recent appearance in this attire bears a striking resemblance to Princess Belle, solidifying her enduring legacy.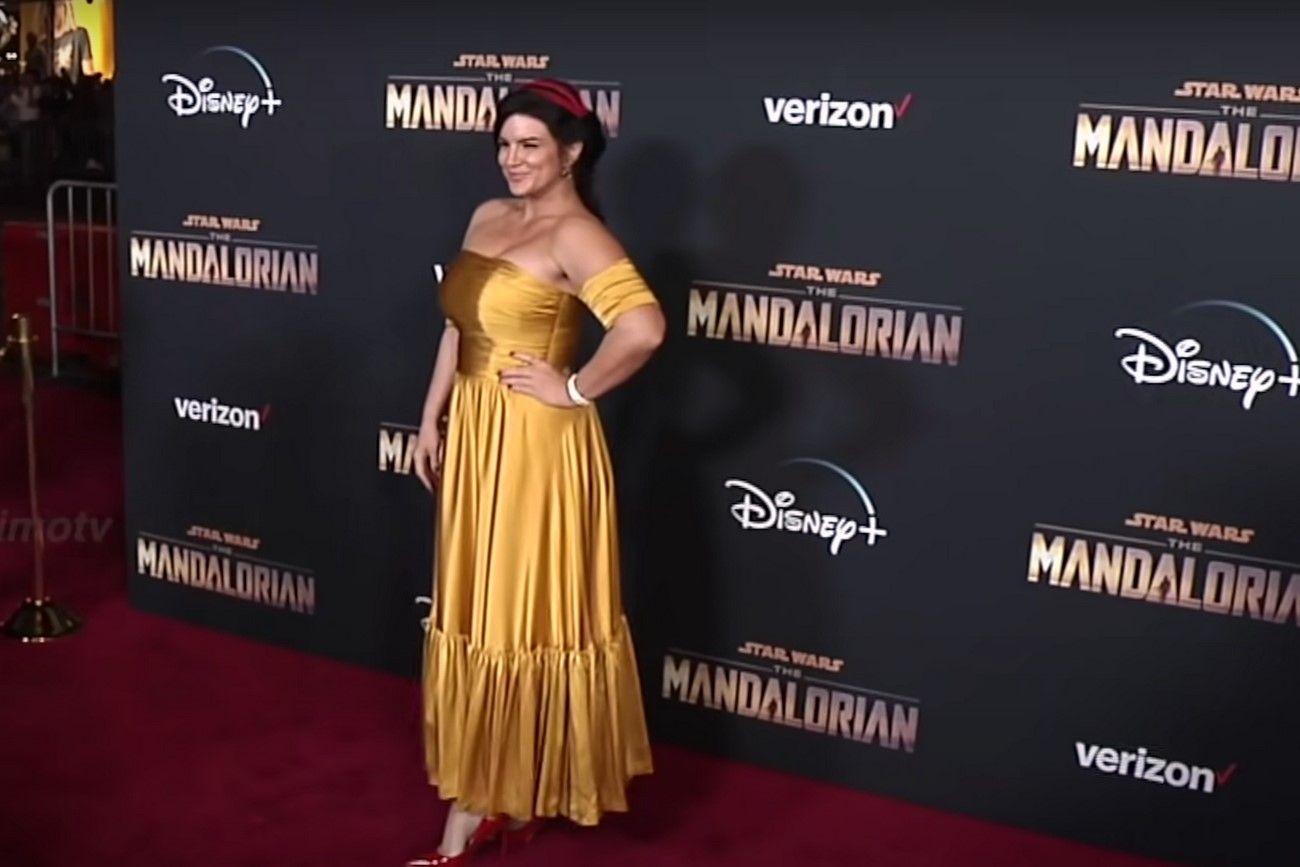 @Gina Carano "The Mandalorian" Premiere Red Carpet/MaximoTV/YouTube.com
Daniela Hantuchová — Tennis
Having represented Slovakia, Daniela Hantuchová is a former professional tennis player who has left an indelible mark on the sport. Her journey began when she accompanied her older brother to tennis lessons as a child, igniting her own passion for the game. Hantuchová turned professional in 1999 and experienced a breakthrough in 2002, claiming victory in a WTA tournament. In January 2003, she reached her career-high ranking of world No. 5 after an impressive quarterfinal run at the Australian Open. Throughout her career, Hantuchová continued to captivate fans with her performances until she announced her retirement from professional tennis in July 2017. Her contributions to the sport will be remembered as a testament to her skill and dedication.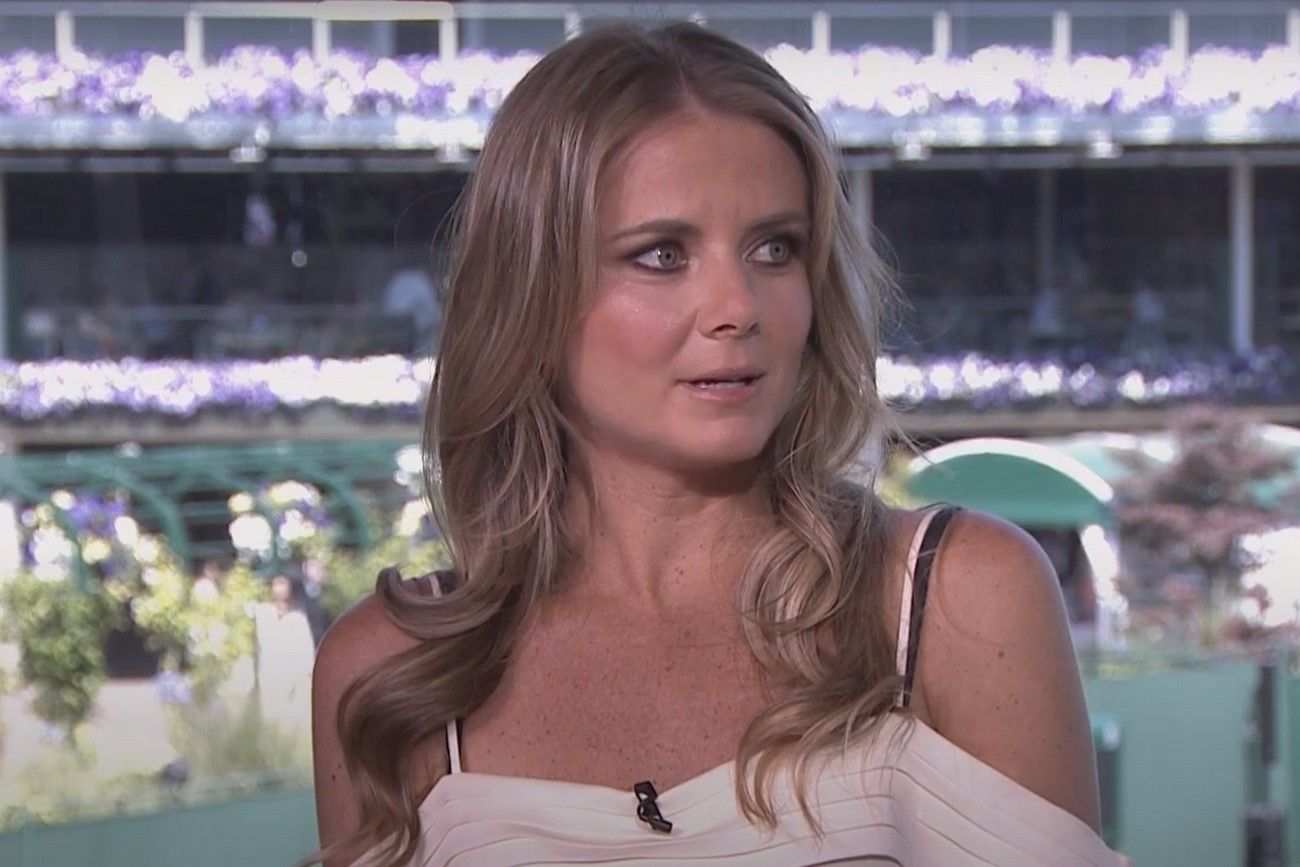 @DANIELA HANTUCHOVA WIMBLEDON 2018/Daniela Hantuchova Channel/YouTube.com
Caroline Wozniacki — Tennis
Caroline Wozniacki, the first woman from a Scandinavian country to achieve the top-ranking position in tennis, embarked on her tennis journey at the tender age of seven. A star in the making, Wozniacki made her debut on the ITF Junior Circuit at just 13 years old in October 2003. Her exceptional skills and dedication were evident from the start. Over her impressive 16-year career, Wozniacki reached remarkable heights, attaining the coveted No. 1 spot in singles and securing her place among the top 20 players in the Open Era. However, in December 2019, Wozniacki surprised the tennis world by announcing her retirement from professional tennis following the 2020 Australian Open, which took place a month later.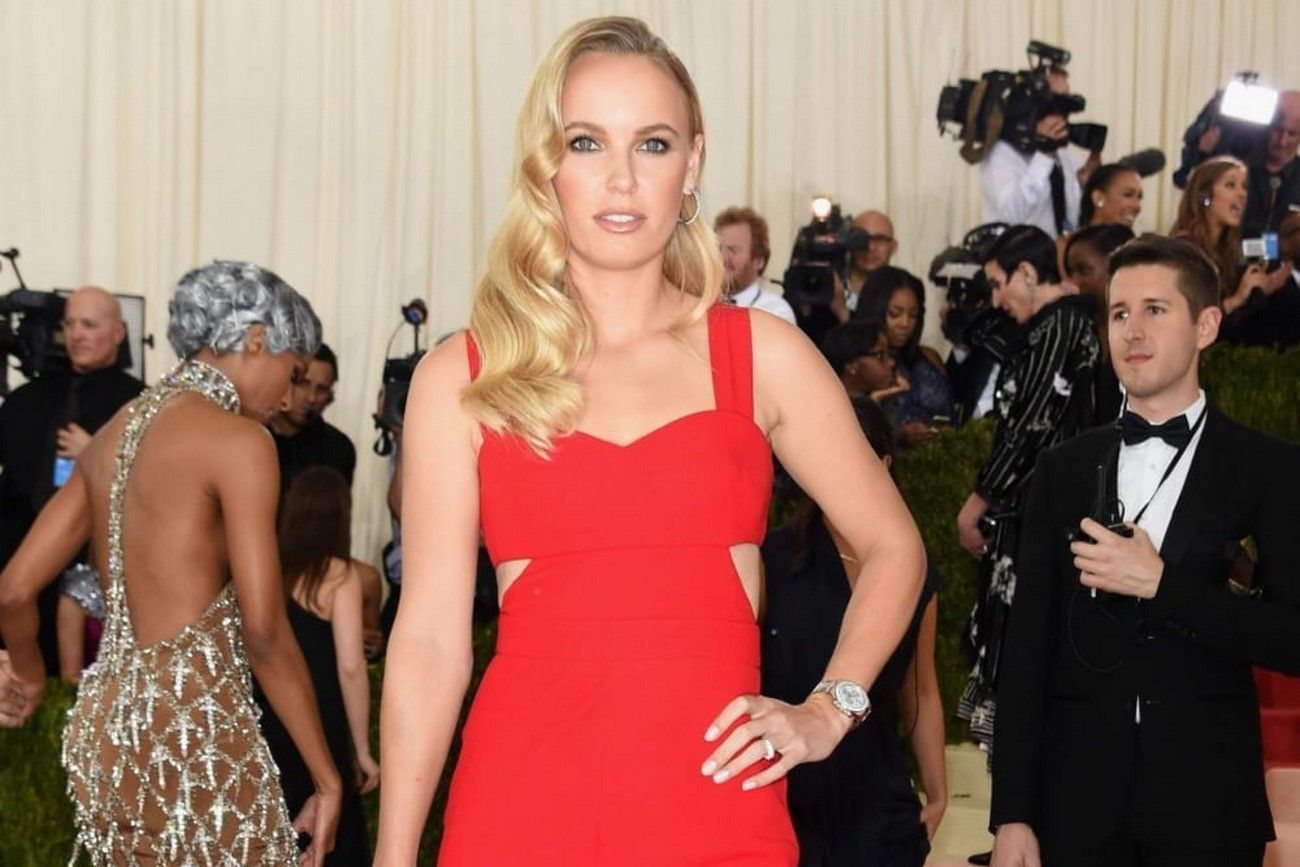 @Pre-Wimbledon Party: Tennis Stars Dazzle/WTA/YouTube.com
Laila Ali — Boxing
Laila Ali, the daughter of the iconic Muhammad Ali, has cemented her place as one of the most renowned female boxers in history. With an impressive career spanning from 1999 to 2007, Ali retired undefeated after eight years of competition. During her career, she achieved remarkable success by capturing multiple titles such as the WBC, WIBA, IWBF, and IBA female super middleweight championships, along with the IWVF light heavyweight title. Since stepping away from the ring, Ali has ventured into various fields such as modeling, television, writing, and more. Currently residing in Los Angeles, she shares her life with her husband and their children.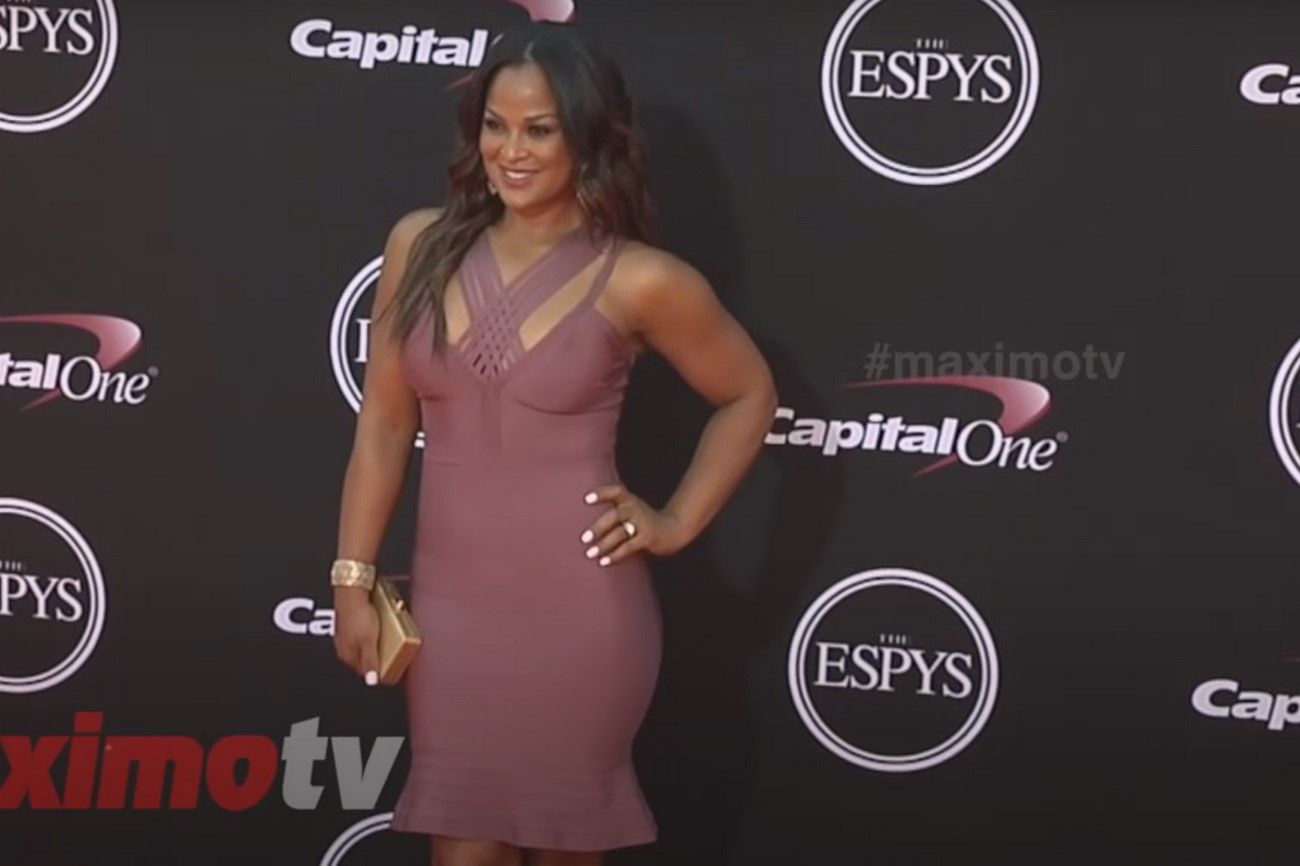 @Laila Ali 2017 ESPY Awards Red Carpet/MaximoTV/YouTube.com
Nastia Liukin — Gymnastics
With a lineage of former Soviet champion gymnasts as parents, it was almost destiny for Nastia Liukin to embark on a gymnastics journey at the tender age of three. Throughout her illustrious career, Liukin carved out her own legacy, securing numerous accolades including the title of 2008 Olympic All-Around champion, five Olympic medals, and four all-around U.S. national championships. Despite retiring from the sport in 2012, the 30-year-old gymnastics icon continues to leave an indelible mark. Her unforgettable presence is further emphasized by her stunning appearance in this exquisite velvet ensemble, reminding us of her enduring charm and grace.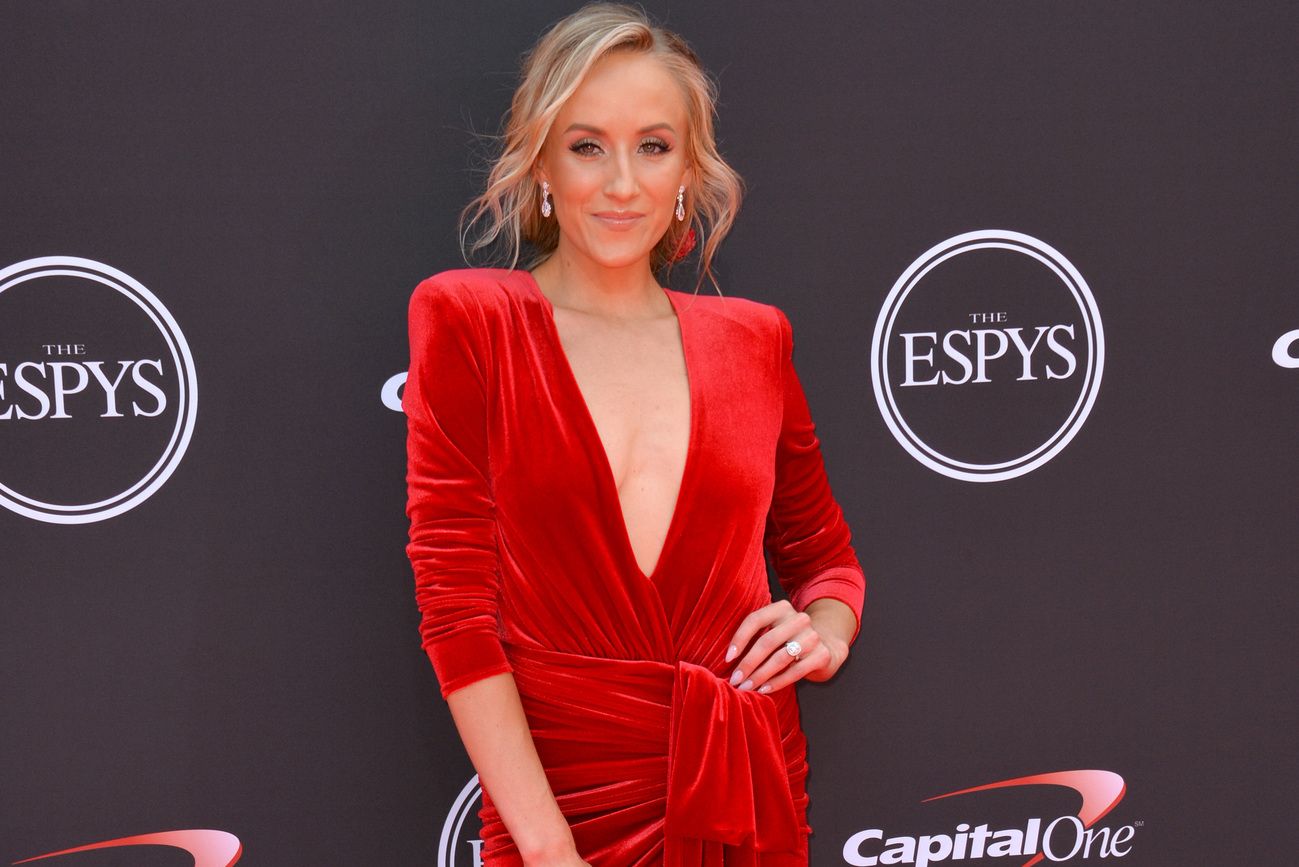 Anastasia Ashley — Surfing
Hailing from California, Anastasia Ashley's love affair with surfing commenced at the tender age of five. A remarkable turning point arrived when, at just six years old, she triumphed in a surf contest, triumphantly riding the waves on a discarded board she had discovered in a trash can near her home. As destiny would have it, by the time she reached the age of seven, Ashley's surfing prowess had attracted the attention of sponsors who replaced her humble board with new ones. Beyond her remarkable achievements on the waves, Ashley's captivating allure and effortless beachy vibes have also paved the way for her modeling endeavors, a natural extension of her inherent beauty and connection to the ocean.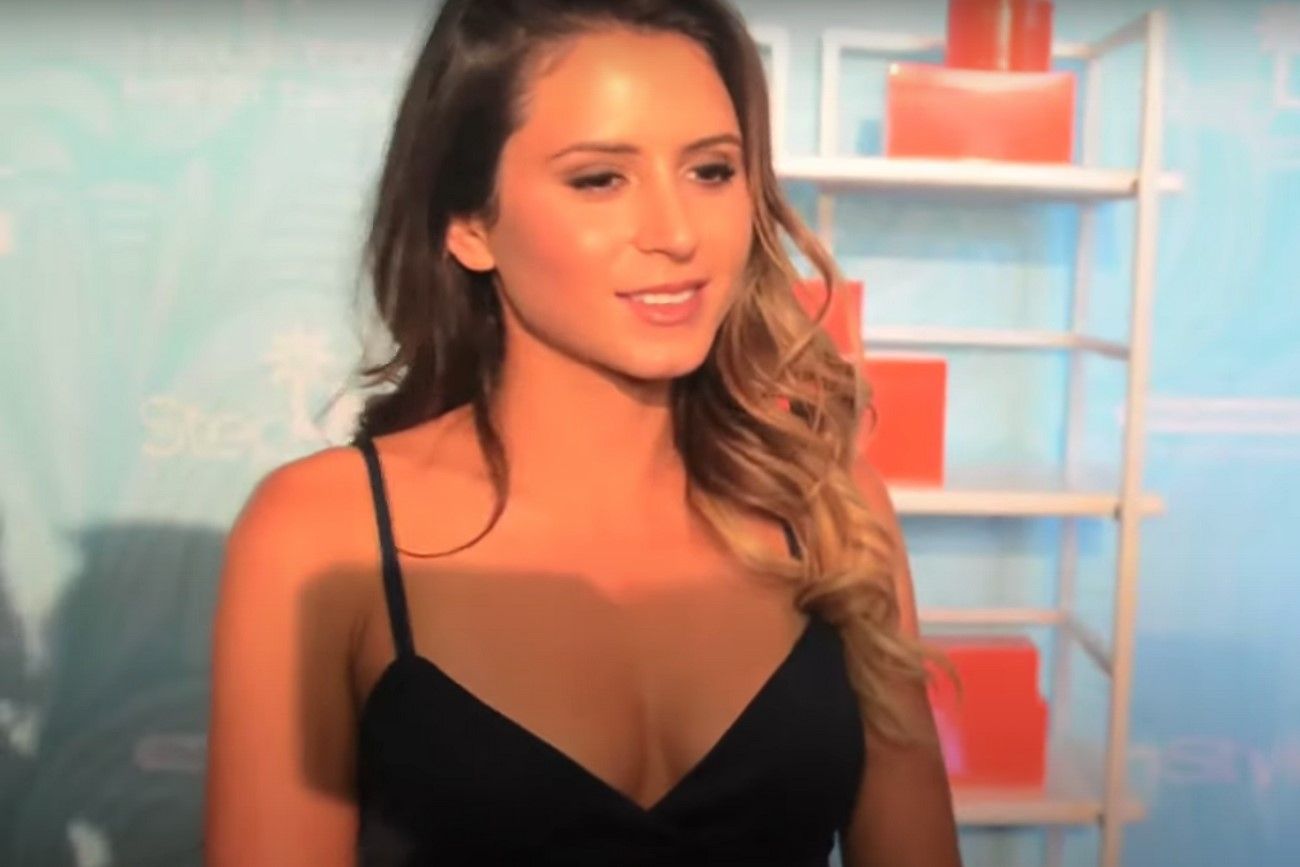 @Anastasia Ashley at the 11th Annual Inspiration Awards Gala #InspirationAwards/Red Carpet Report on Mingle Me/YouTube.com
Paige Spiranac — Golf
Paige Spiranac's fame extends beyond her golf prowess. Initially, she gained widespread attention through her social media accounts, where she shared captivating trick-shot videos. Almost instantly, her popularity skyrocketed, amassing a remarkable two million Instagram followers by 2018. Spiranac's golf journey included playing for the University of Arizona and San Diego State University, where she earned All-Mountain West Conference honors in both the 2012/13 and 2013/14 seasons. With her stunning presence, it's evident that Spiranac effortlessly shines on and off the golf course, making her a natural standout on the red carpet.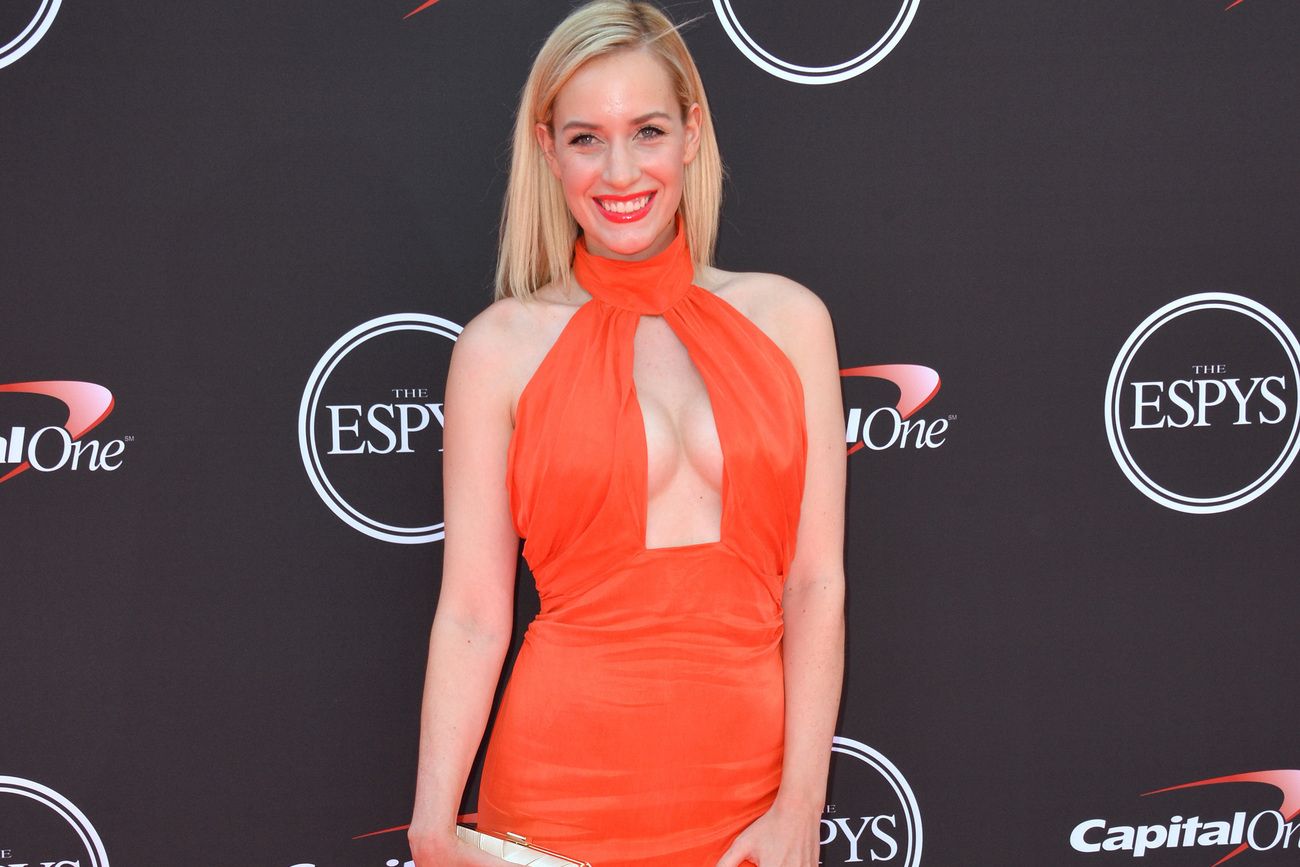 Chloe Kim — Snowboarding
Hailing from California, Chloe Kim is a formidable force in the world of snowboarding. At the young age of 17, she made history by becoming the youngest woman to win an Olympic gold medal in the women's snowboard halfpipe event. This achievement solidified her status as an exceptional talent in the sport. Kim's success extends beyond the Olympics, as she has also claimed four gold medals at the X Games, showcasing her dominance in competitive snowboarding. Additionally, she holds the distinction of being the first-ever woman to secure gold medals in snowboarding at the Winter Youth Olympic Games. Now at 23 years old, Kim continues to reign as the reigning World, Olympic, Youth Olympic, and X Games champion in the halfpipe discipline. Her consistent excellence and remarkable achievements make her an outstanding figure in the world of snowboarding.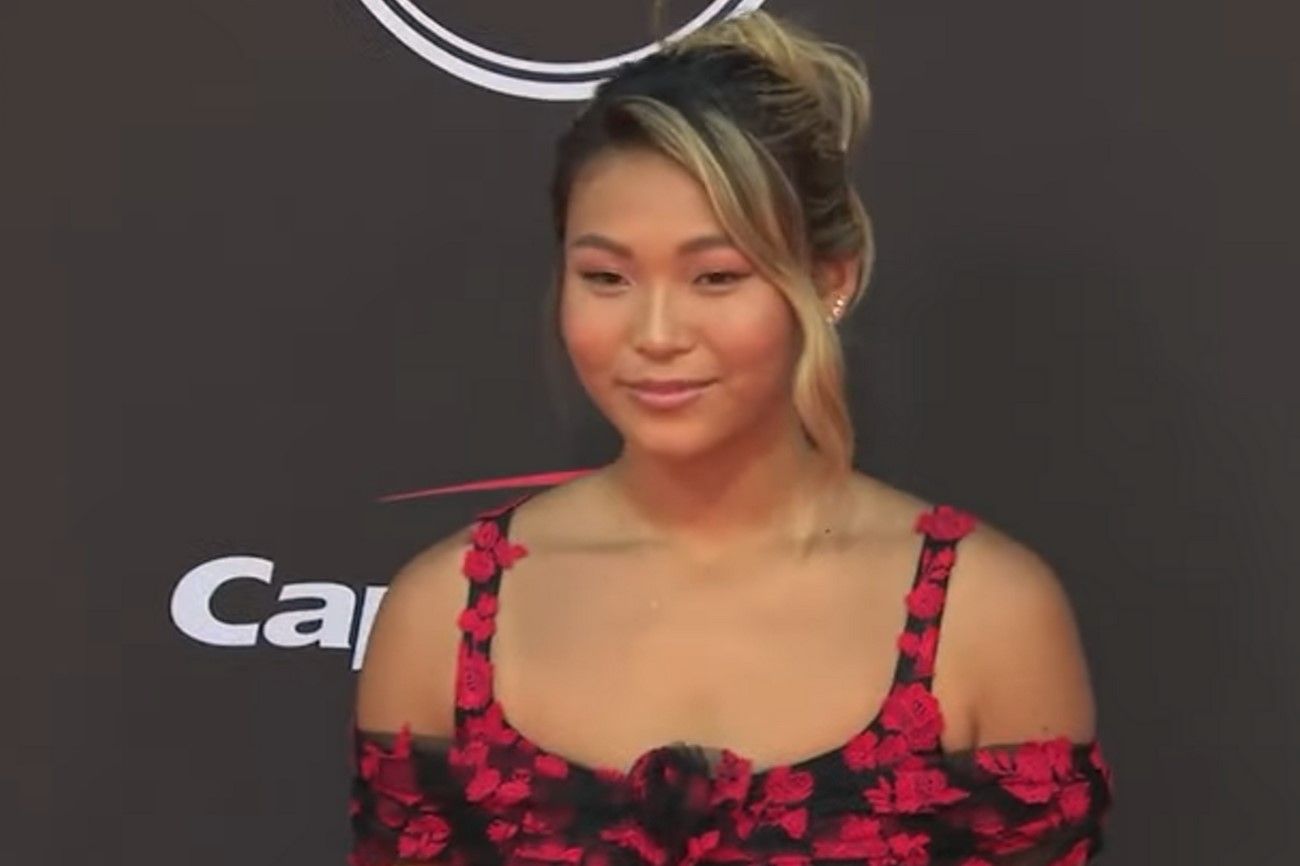 @Chloe Kim stuns in floral dress at 2019 ESPY Awards red carpet/Daily Mail/YouTube.com
Anastasia Yankova — MMA
Anastasia Yankova, undoubtedly a true warrior, found inspiration in the television series Xena: Warrior Princess during her childhood. Intrigued by the show, Yankova embarked on her training journey at the young age of six. While she briefly paused her training to focus on her education, Yankova eventually immersed herself in Muay Thai and participated in kickboxing tournaments. With her natural progression, she eventually transitioned into the world of Mixed Martial Arts (MMA). Presently, Yankova showcases her skills in Bellator Fighting Championships, while also making stylish appearances on the red carpet during her leisure time.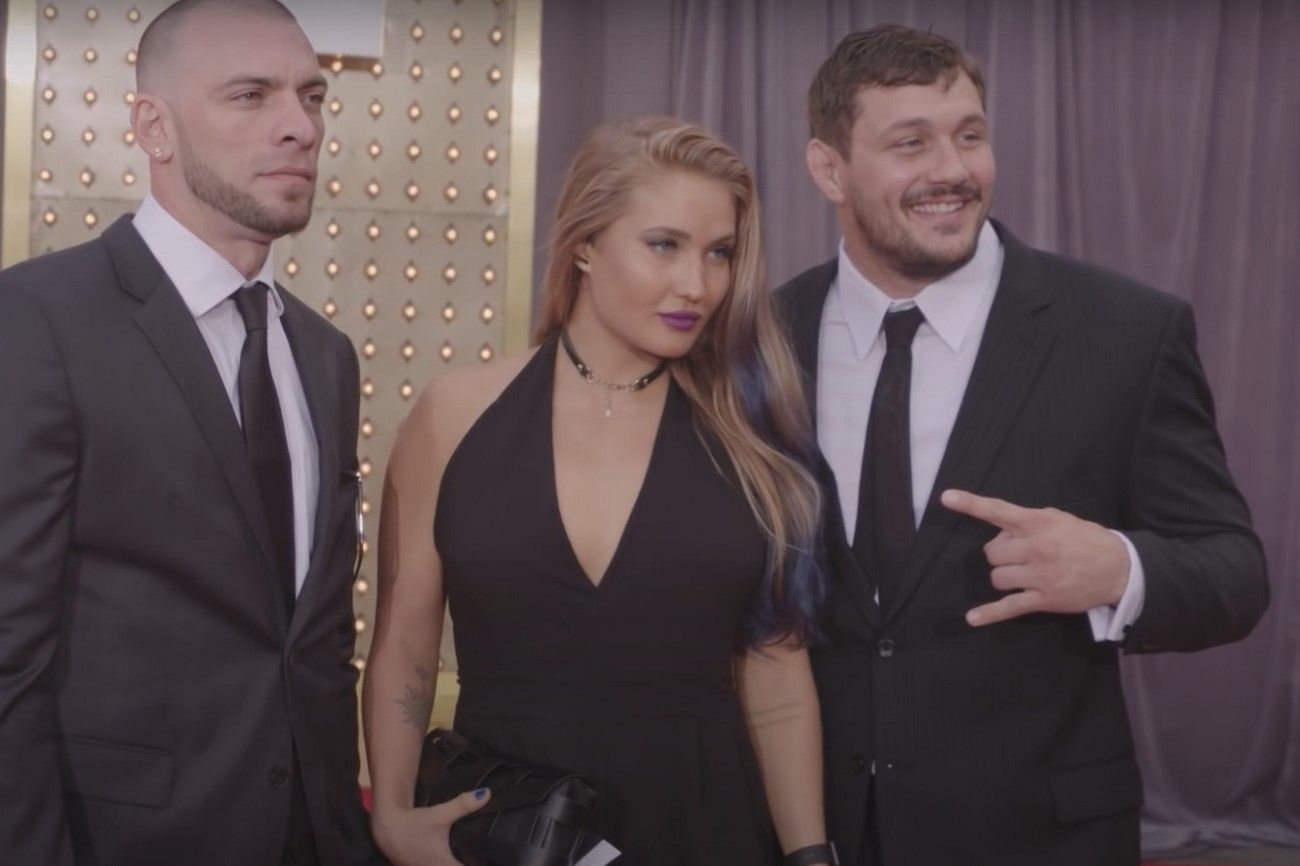 @Bellator MMA: 2016 Guys Choice Red Carpet/BellatorMMA/YouTube.com
Queen Harrison — Running
Undeniably, Queen Harrison stands as an incredible force in the world of athletics. As an American hurdler and sprinter, Harrison exhibited exceptional athletic prowess from a young age. Her talent was on full display in 2010 when she made NCAA history by becoming the first woman to secure victories in both the 100m and 400m hurdles titles at the NCAA Outdoor Championships. Additionally, Harrison proudly represented Virginia Tech as the university's first track and field athlete to compete at the Olympic Games. Currently residing in South Carolina, she shares her life with her husband, Will Claye, who is also a notable U.S. athlete.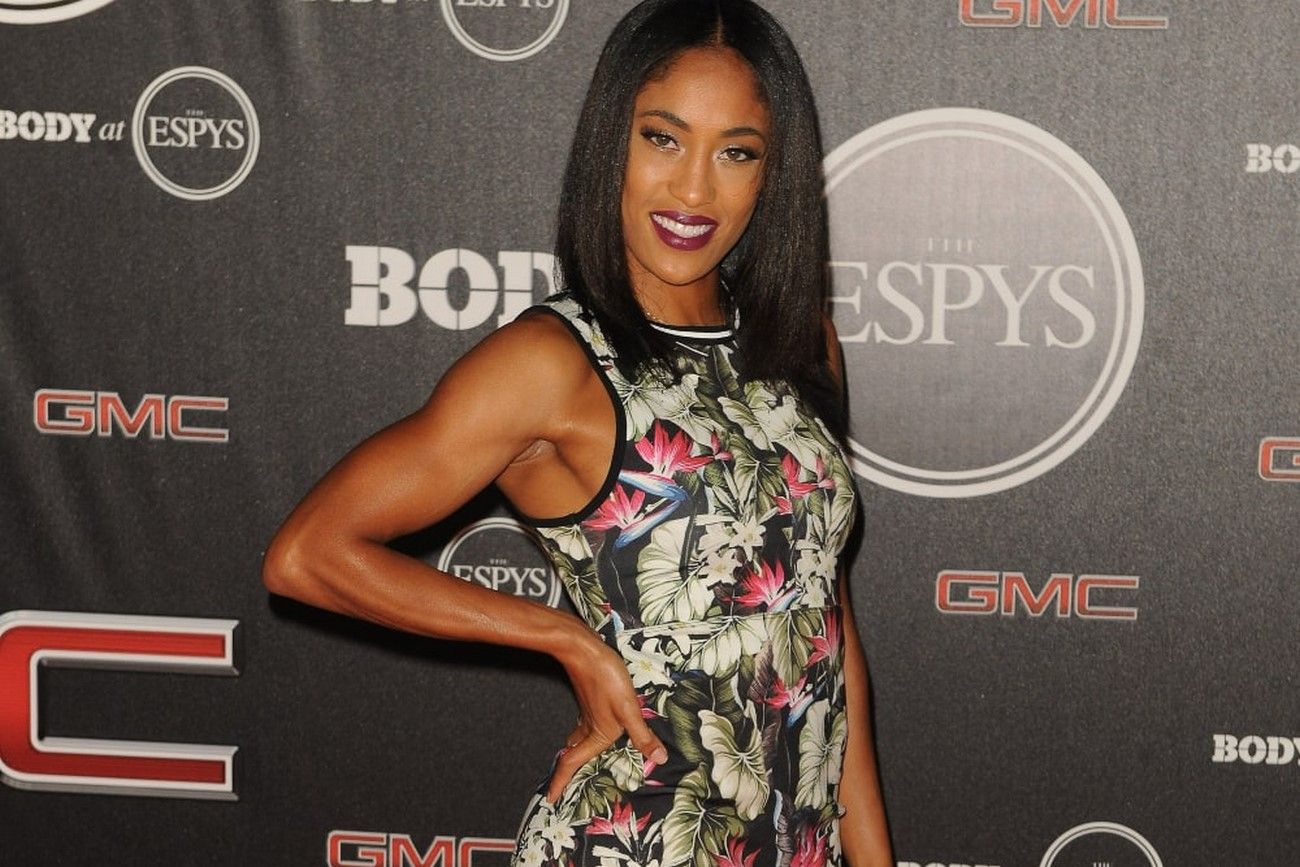 @Queen Harrison After Taking 4th in 100 Hurdles at 2016 Olympic Trials/letsrundotcom/YouTube.com
Camila Giorgi — Tennis
Camila Giorgi, a professional tennis player from Italy, burst onto the scene at the ITF Women's Circuit in 2006, marking the beginning of her senior international tournament career. In 2009, she clinched her first ITF title, setting the stage for her WTA Tour debut at the 2011 Wimbledon Championships. Now at the age of 28, Giorgi has established herself as one of the most powerful hitters in the tennis world. Her relentless ball striking abilities make her a force to be reckoned with on the tour. However, it's not just her prowess on the court that catches attention. As seen in this picture, Giorgi also knows how to make a statement with her presence and style, both on and off the court.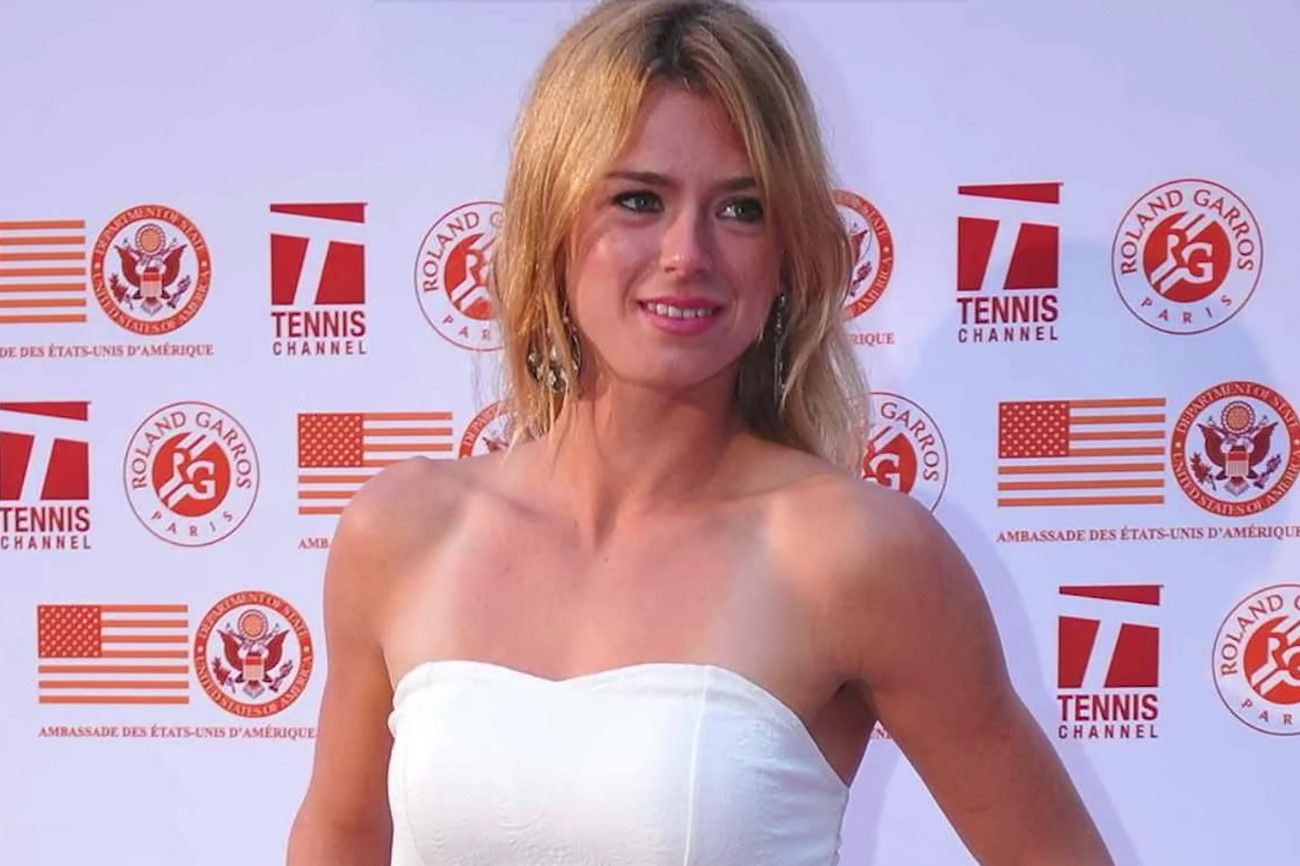 @Camila Giorgi Unleashed: The Italian Tennis Sensation's Journey from Underdog to Top Contender/Athletes/YouTube.com
Urszula Radwańska — Tennis
Hailing from Poland, Urszula Radwańska is a prominent professional tennis player who has made significant contributions to the sport. At 32 years old, Radwańska has an impressive track record, including securing the doubles title on the WTA Tour and clinching four singles and ten doubles titles on the ITF Women's circuit. In October 2012, she achieved her highest career singles ranking, reaching the esteemed position of world No. 29. Widely recognized and admired, Radwańska stands out as one of the most renowned tennis players on the court today. In addition to her athletic pursuits, Radwańska has ventured into the business world, establishing the UR brand known for its luxurious handbags.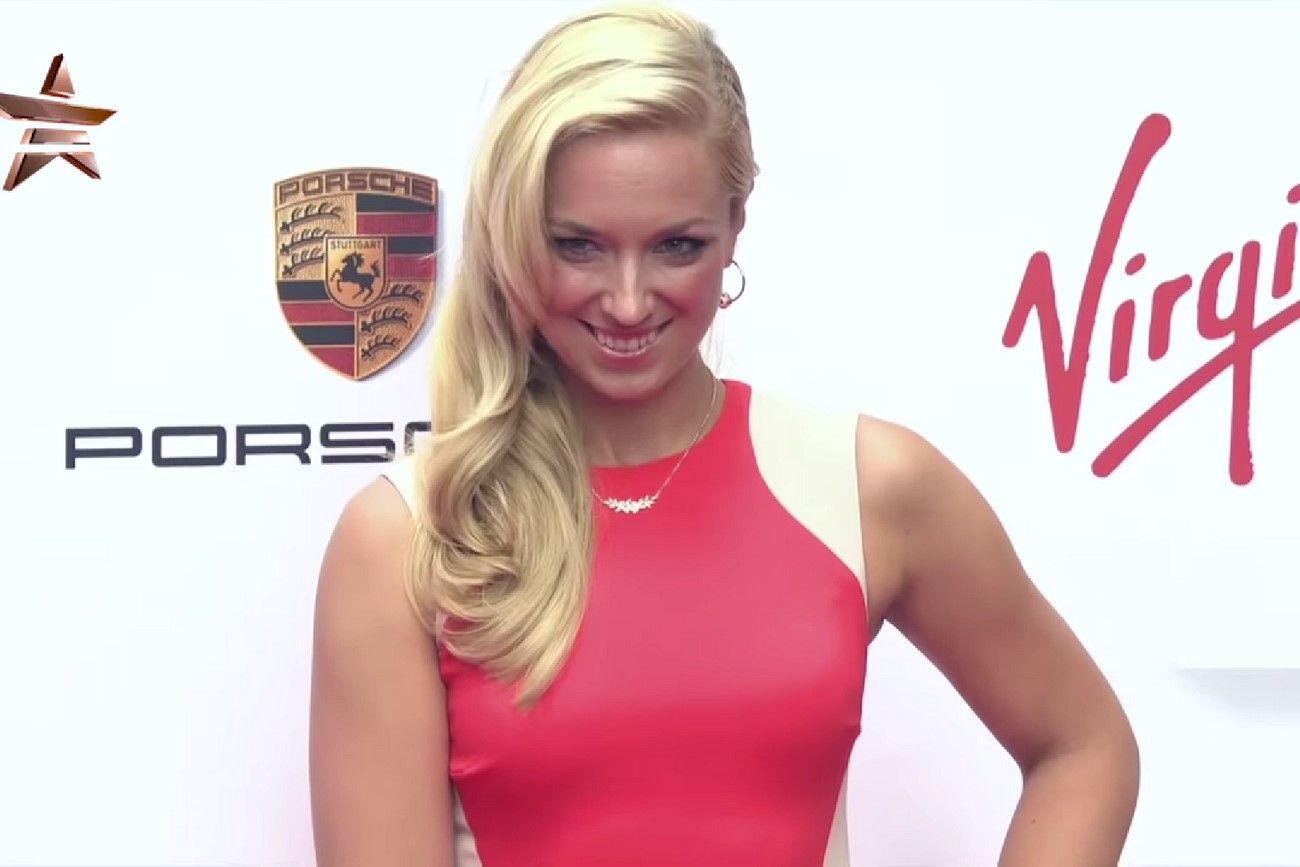 @Events WTA Pre Wimbledon Party London 2014 91507 NMNB/FO/YouTube.com
Heather Watson — Tennis
At the age of 31, Heather Watson emerged as a prominent British professional tennis player. Watson's journey in tennis began at the age of seven, and her passion for the sport led her to attend the renowned Nick Bollettieri Tennis Academy in Florida. Throughout her professional career, Watson has consistently showcased her talent and determination, solidifying her position as a key player in the tennis world. In a significant achievement, she secured her first WTA singles title at the Japan Open in October 2012, making her the first British woman since Sara Gomer in 1988 to claim such a victory. Watson's success has propelled her to the forefront of British tennis and earned her a well-deserved reputation in the sport.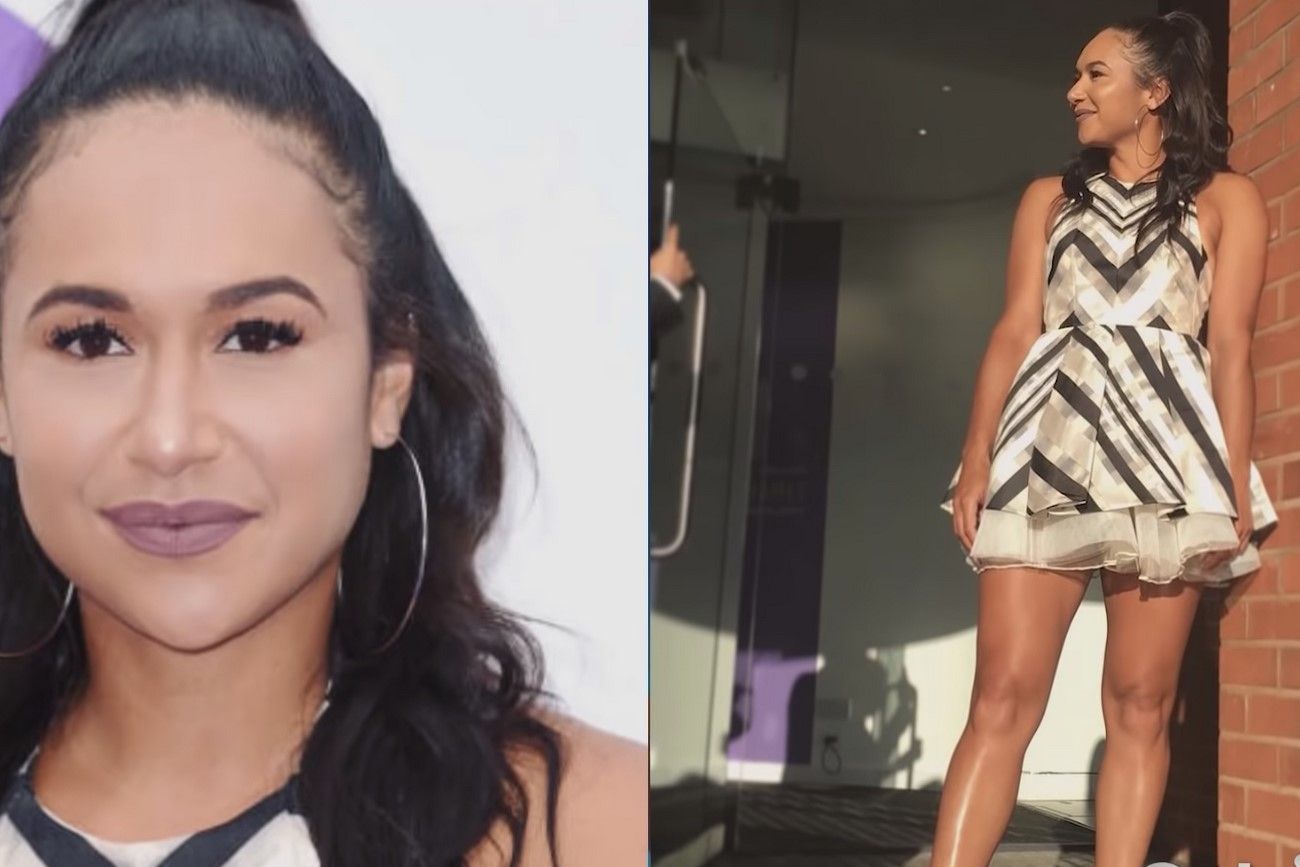 @Heather Watson Dressed to Impress at the WTA Party/Outside the Ball/YouTube.com
Carmen Jordá — Racing
Carmen Jordá, a former motor race car driver from Alcoy, Spain, has made a significant impact in the world of motorsports. Now aged 35, she had a notable stint as a development driver for both the Lotus and Renault Sport Formula One teams from 2015 to 2017. Jordá has also showcased her skills in various other racing series, such as GP3, Firestone Indy Lights, and the Le Mans Series. Her presence on the race track has been nothing short of exhilarating throughout her career. Moreover, it's impossible to ignore Jordá's stunning appearance, which adds another layer to her remarkable persona.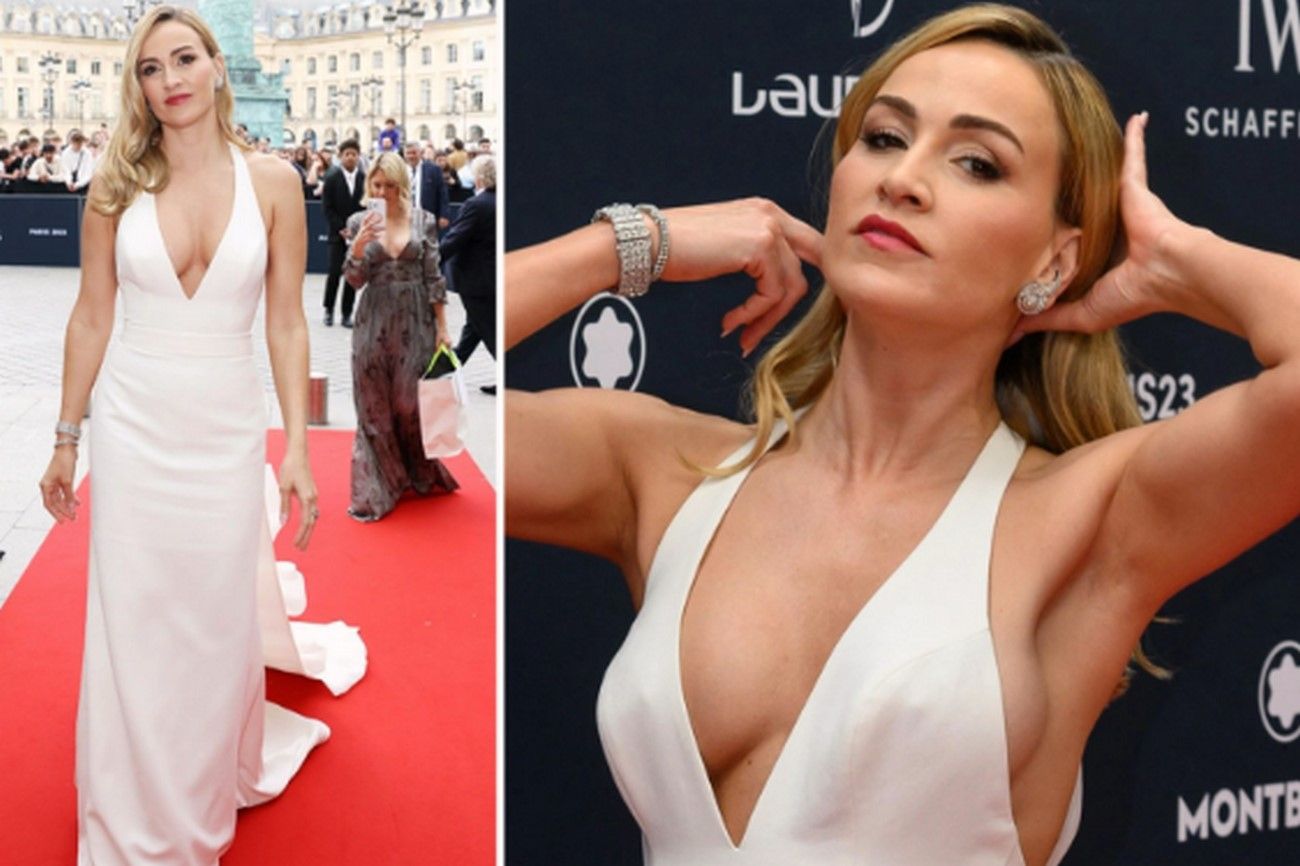 @Carmen Jordá, dentro del circuito | Elle España/ELLE España/YouTube.com
Gabby Douglas — Gymnastics
At the age of 27, Gabby Douglas embarked on her journey as a gymnast, commencing training at the tender age of six. Her dedication and hard work paid off when she secured a spot on the U.S. Gymnastics Team in 2008, at the age of 13. Since her debut on the international stage, Douglas has captivated audiences and left the world in awe with her exceptional talent and graceful performances. Notably, she holds the distinction of being the first African American to achieve the title of Olympic individual all-around champion, as well as the first U.S. The gymnast made history by securing gold medals in both the individual all-around and team events at the same Olympics. With her remarkable achievements, it's no surprise that she also possesses an impeccable sense of style.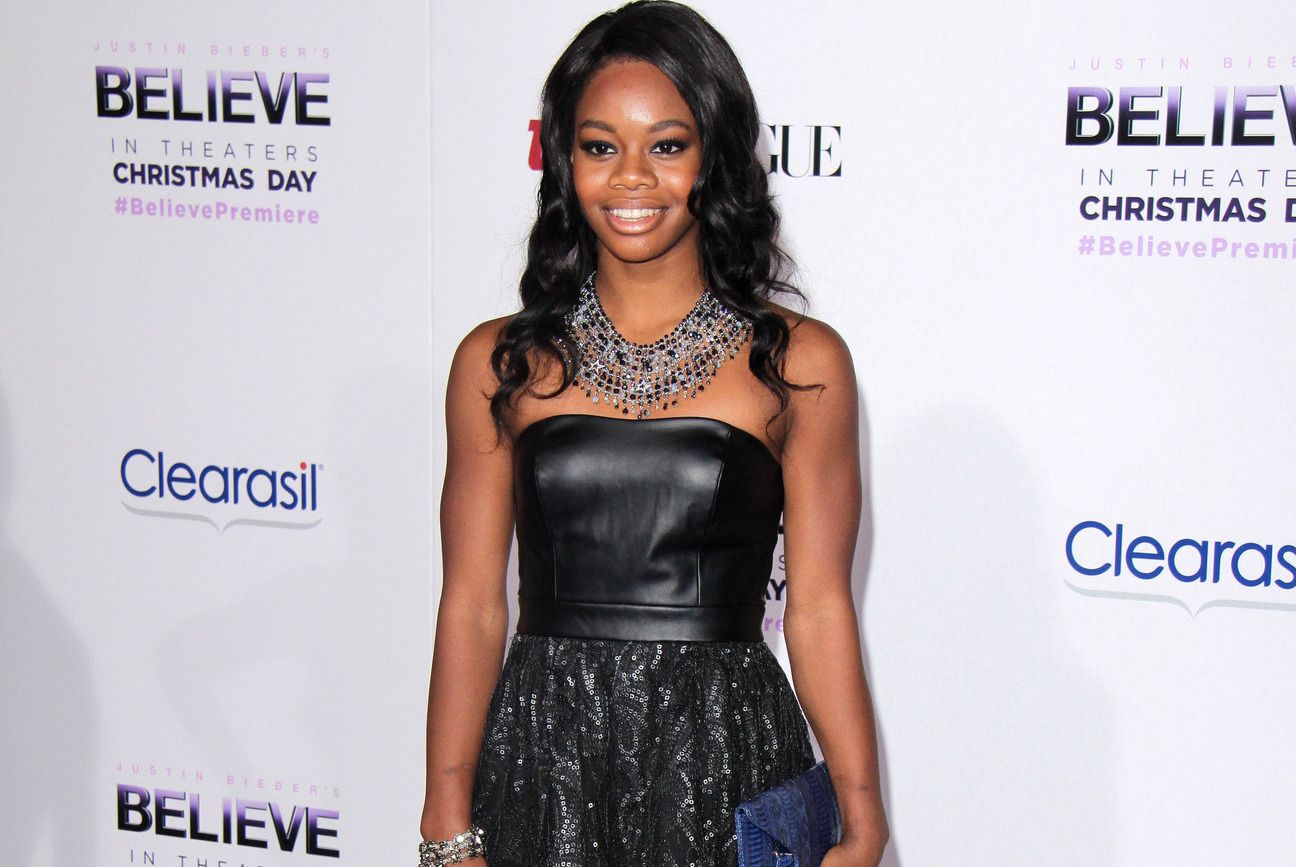 Ellen Hoog — Field Hockey
It's important to acknowledge Ellen Hoog's undeniable dominance in the world of field hockey. At the age of 37, she has dedicated 16 years to her national team and continues to perform at an exceptional level without any signs of slowing down. Hailing from the Netherlands, Hoog boasts an impressive record of 127 matches played and 32 goals scored since joining the national team. Her achievements include winning Olympic gold medals in 2008 and 2012, as well as a silver medal in 2016. It's evident that Hoog is a force to be reckoned with, both on the field and when gracing the red carpet, solidifying her status as a true powerhouse.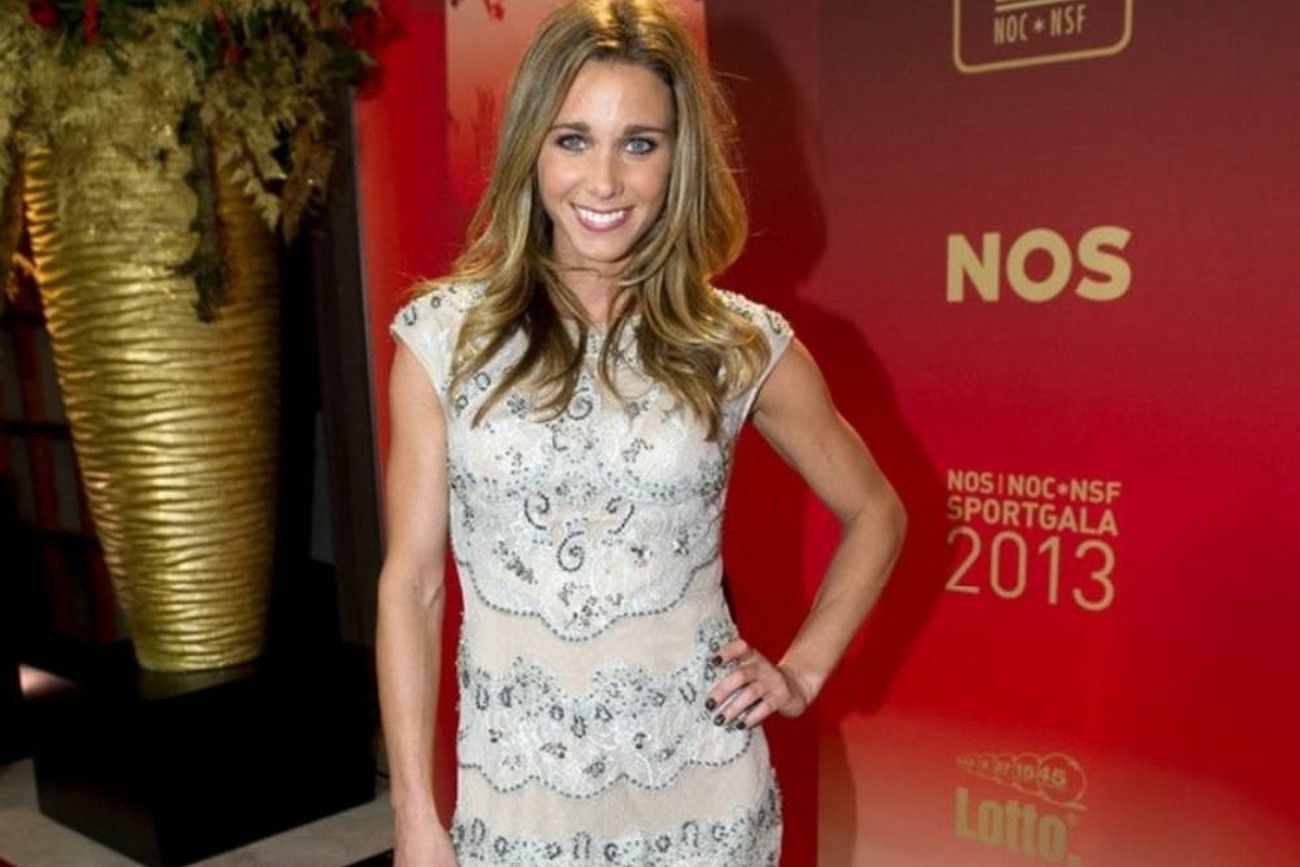 @Flair behind the scenes - Ellen Hoog/Flair Nederland/YouTube.com
Chelsea Pezzola — Golf
Undoubtedly, Chelsea Pezzola has captured attention not only for her remarkable golfing skills but also for her captivating beauty. Hailing from Florida, Pezzola pursued her education at the University of Michigan, where she showcased her athletic prowess as a member of the women's golf team until her graduation in 2014. Presently, she dedicates her time to honing her game, balancing her participation between the Sun Coast mini-tour and the Symetra Tour. In addition to her on-course accomplishments, Pezzola never fails to make a statement on the red carpet.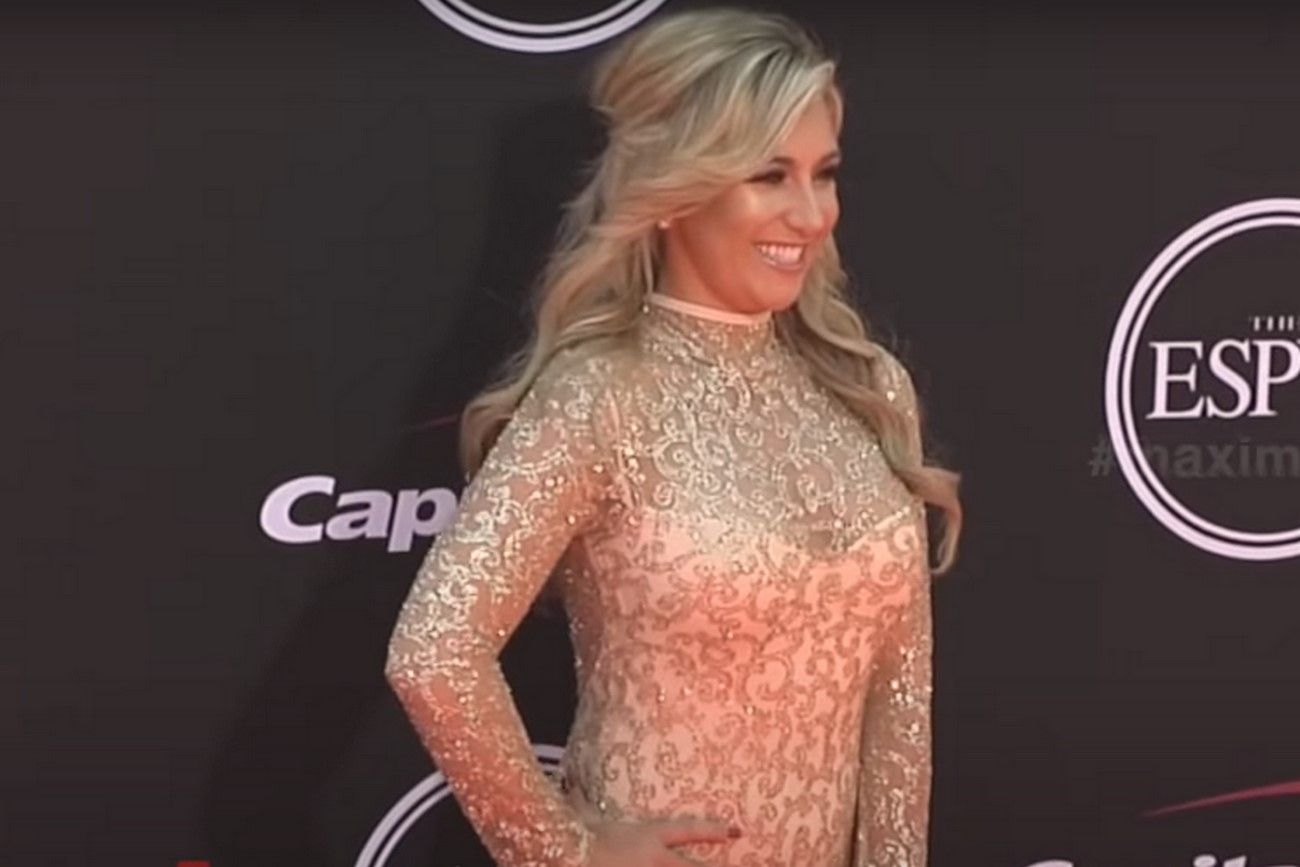 @Chelsea Lynn Pezzola 2017 ESPY Awards Red Carpet/MaximoTV/YouTube.com
Alex Morgan — Soccer
Dubbed "Baby Horse" by her teammates, Alex Morgan is a professional soccer player representing the Orlando Pride in the National Women's Soccer League (NWSL) - the premier division of women's professional soccer in the United States. Despite starting her soccer journey at the age of 14, Morgan has swiftly risen to prominence. She not only became the sixth and youngest U.S. player to score 20 goals in a single season but also played an instrumental role in the United States triumphs at the 2015 and 2019 FIFA Women's World Cup. Adding to her joy, on May 7th, 2020, Morgan and her husband celebrated the arrival of their first child.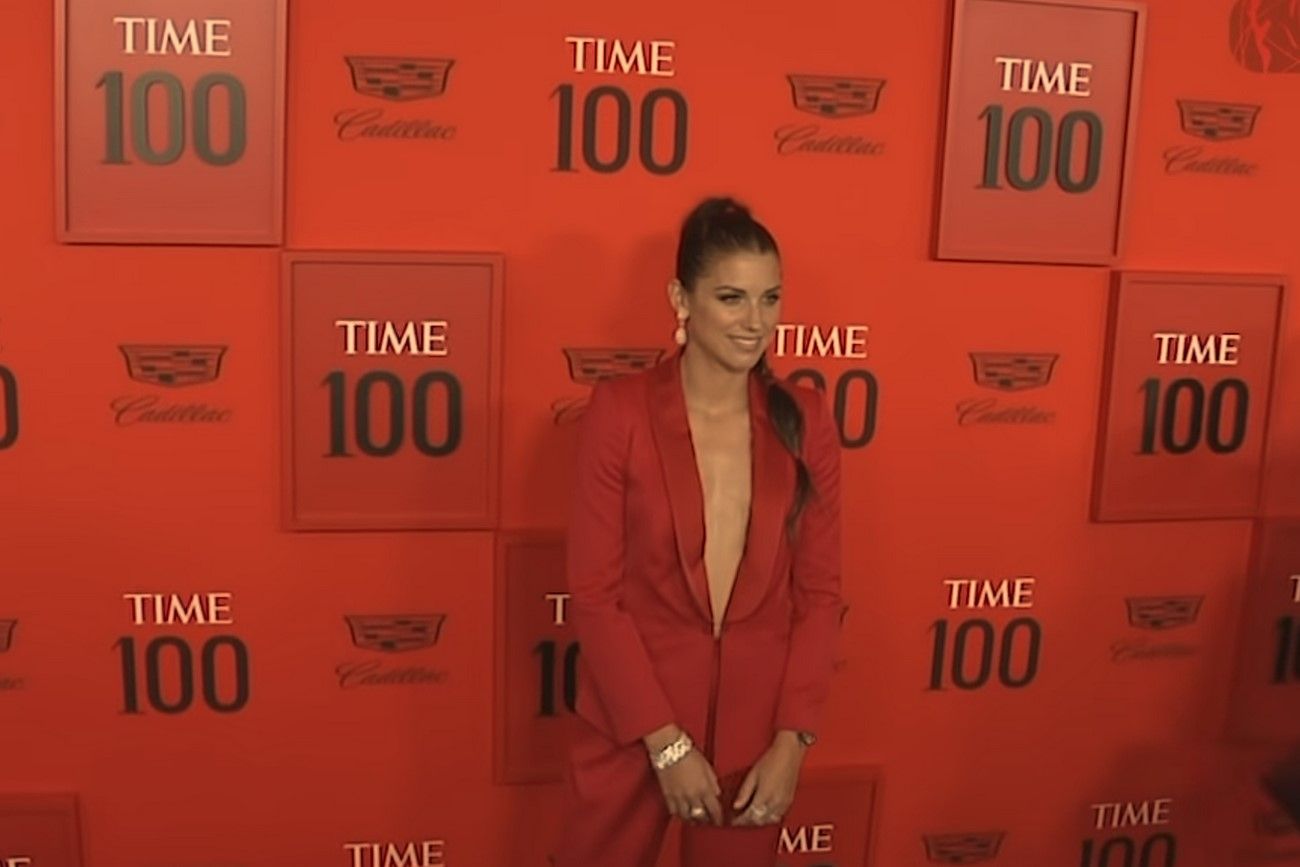 @Alex Morgan arrives at 2019 Time 100 Gala/WMTV/YouTube.com
Angela Ruch — Racing
When it comes to pushing the limits in the world of racing, Angela Ruch stands out. As an American professional stock race car driver, Angela and her twin sister achieved a remarkable milestone by becoming the first set of twins to compete in NASCAR's top three series. This accomplishment is not surprising considering their familial connection to the renowned race car driver, Derrike Cope, who happens to be their uncle. Racing runs deep in their bloodline. Currently, Ruch is fully committed to competing in the NASCAR Gander RV & Outdoors Truck Series, where she drives the No. 00 Chevrolet Silverado/Toyota Tundra for Reaume Brothers Racing.
@NASCAR Starlet Angela Ruch Races Into California Live | California Live | NBCLA/NBCLA/YouTube.com
McKayla Maroney — Gymnastics
McKayla Maroney, a former member of the renowned American women's gymnastics team known as the Fierce Five, started her gymnastics journey at an incredibly young age of two. Her early dedication and talent propelled her to remarkable achievements in the sport. Notably, Maroney made history as the first U.S. female gymnast to successfully defend a World Championship vault title, earning the gold medal at the 2013 World Championships. Despite her retirement from competitive gymnastics, McKayla Maroney's impact and reputation in the gymnastics world remain undeniable.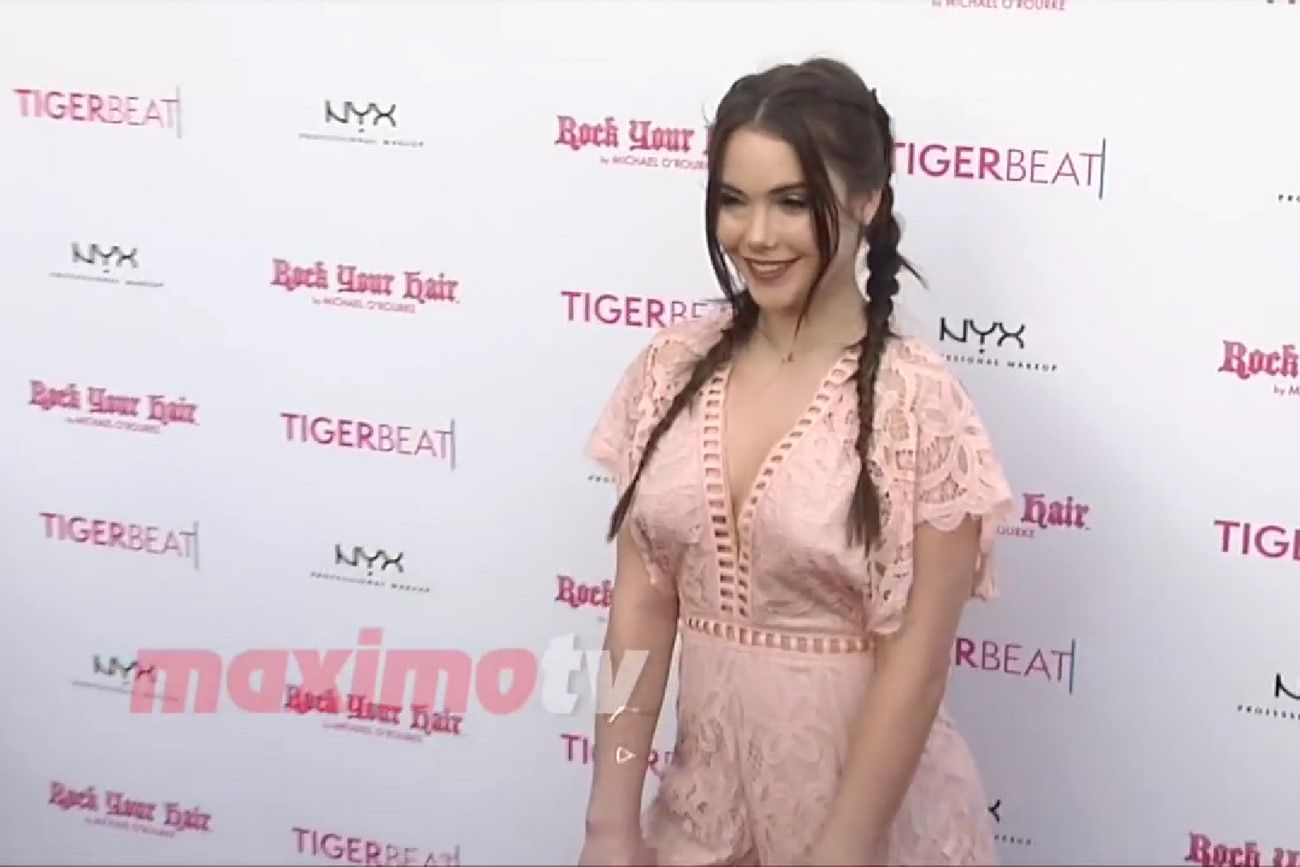 @McKayla Maroney "TigerBeat" Teen Choice Awards Pre-Party Bash/MaximoTV/YouTube.com
Simone Biles — Gymnastics
Of course, Simone Biles cannot be overlooked when discussing iconic athletes. Her meteoric rise to stardom began at the age of 19 when she made her debut at the Olympic Games. As a member of the adored "Final Five" gymnastics team, Biles has captured the hearts of the American public and cemented her status as one of the most cherished athletes in the nation's history. Now at the age of 26, Biles continues to defy expectations and push boundaries in the world of gymnastics. Her determination and skill make her an unstoppable force in the sport. Biles's extraordinary performances have consistently mesmerized audiences, earning her widespread admiration and respect. It is evident that Biles is far from slowing down. Her relentless drive and unmatched talent ensure that she will remain a dominant figure in the world of gymnastics. Simone Biles is, without a doubt, a force to be reckoned with, and her legacy will endure for generations to come.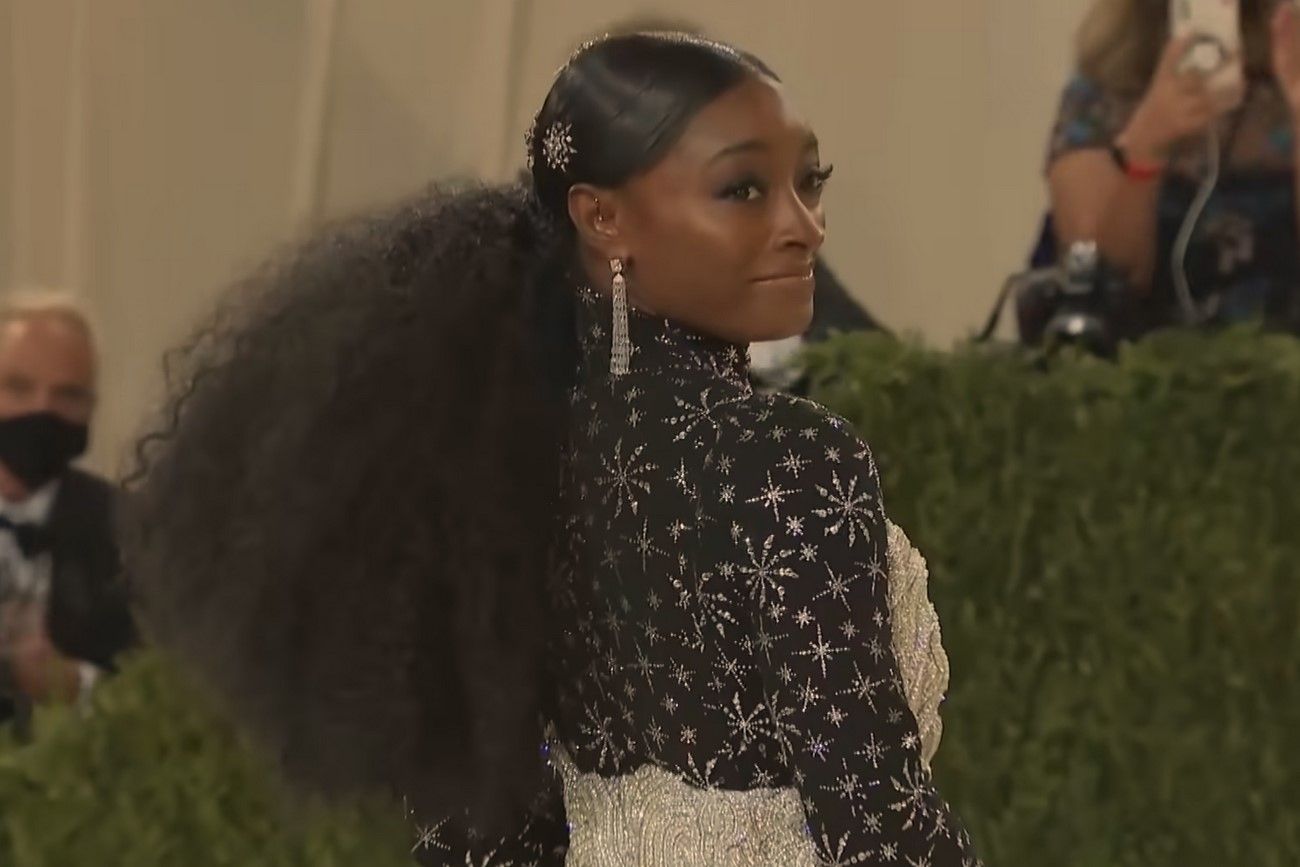 @Simone Biles Sports 88-POUND Dress at Met Gala/Entertainment Tonight/YouTube.com
Brie Bella — Wrestling
It's impossible to discuss Nikki Bella without mentioning her twin sister, Brie Bella. Brie, a former WWE Divas Champion, began her journey in professional wrestling when she and Nikki signed developmental contracts with WWE in June 2007. They were assigned to Florida Championship Wrestling (FCW), where they made their in-ring debut a few months later. Alongside their wrestling and television careers, the Bella Twins have also participated in bikini contests, which is not surprising considering their modeling background prior to entering the wrestling world. Presently, Brie resides in Phoenix with her husband and their child, and they are expecting another addition to their family.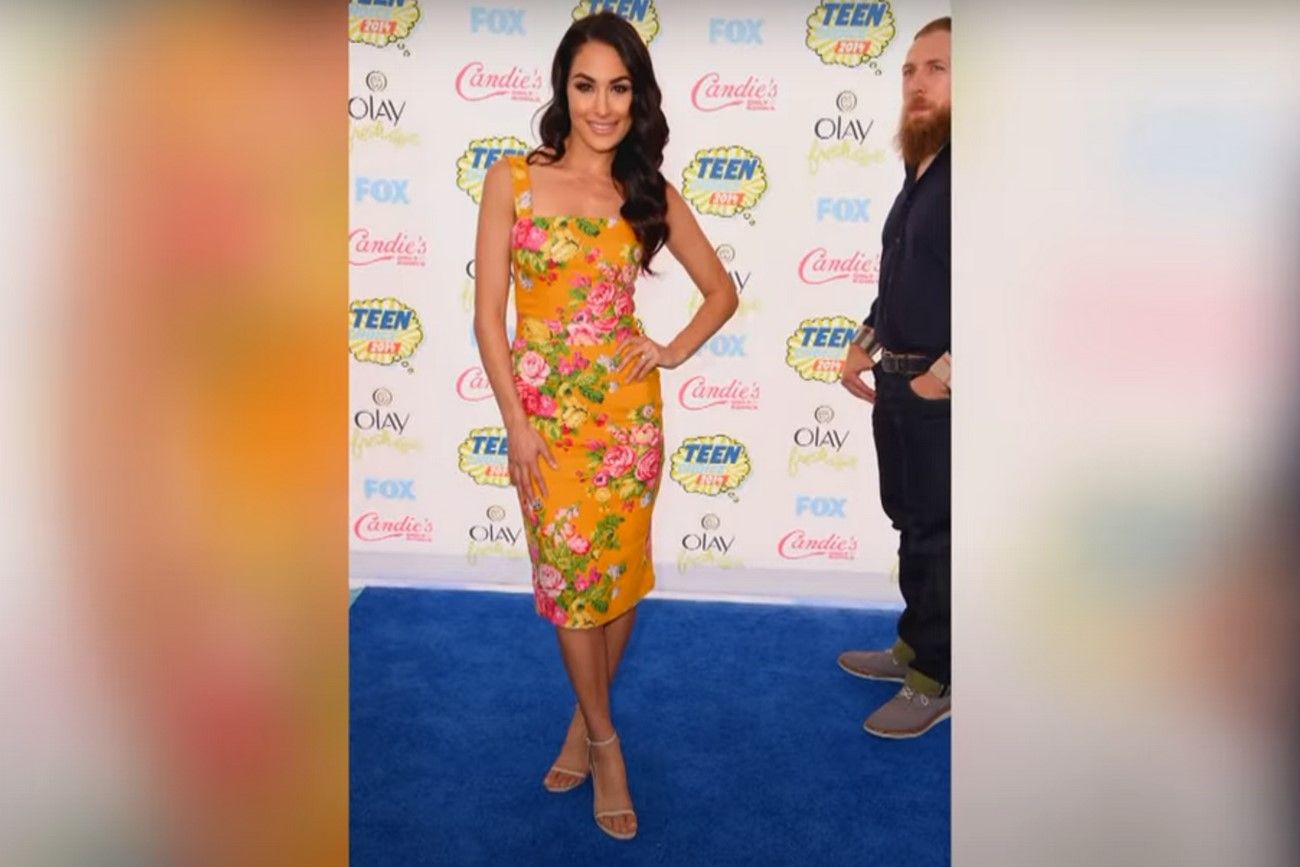 @Brie Bella and Daniel Bryan walk the red carpet: Total Divas: Oct. 19, 2014/WWE/YouTube.com
Jessie Graff — Stuntwoman
Recognized as one of the most captivating personalities in Hollywood, Jessie Graff has made a name for herself in various domains. Hailing from New York, she is not only a professional stuntwoman but also a prominent athletics-based television personality. Graff's impressive martial arts background encompasses a black belt in Taekwondo and expertise in five other martial arts styles. Additionally, she excels as a championship pole vaulter and competitive gymnast, showcasing her versatility and athleticism. Graff's diverse skill set led her to pursue a career in stunt work, which she embarked upon in 2007. Her talents have been showcased in numerous television shows and films, including notable appearances in productions such as X-Men: First Class, Make it or Break It, Bridesmaids, Knight and Day, and Bad Teacher, among others. Her star power extends to her prominent role on the popular TV show American Ninja Warrior, where she stands out as one of its most prominent and revered figures, regardless of gender.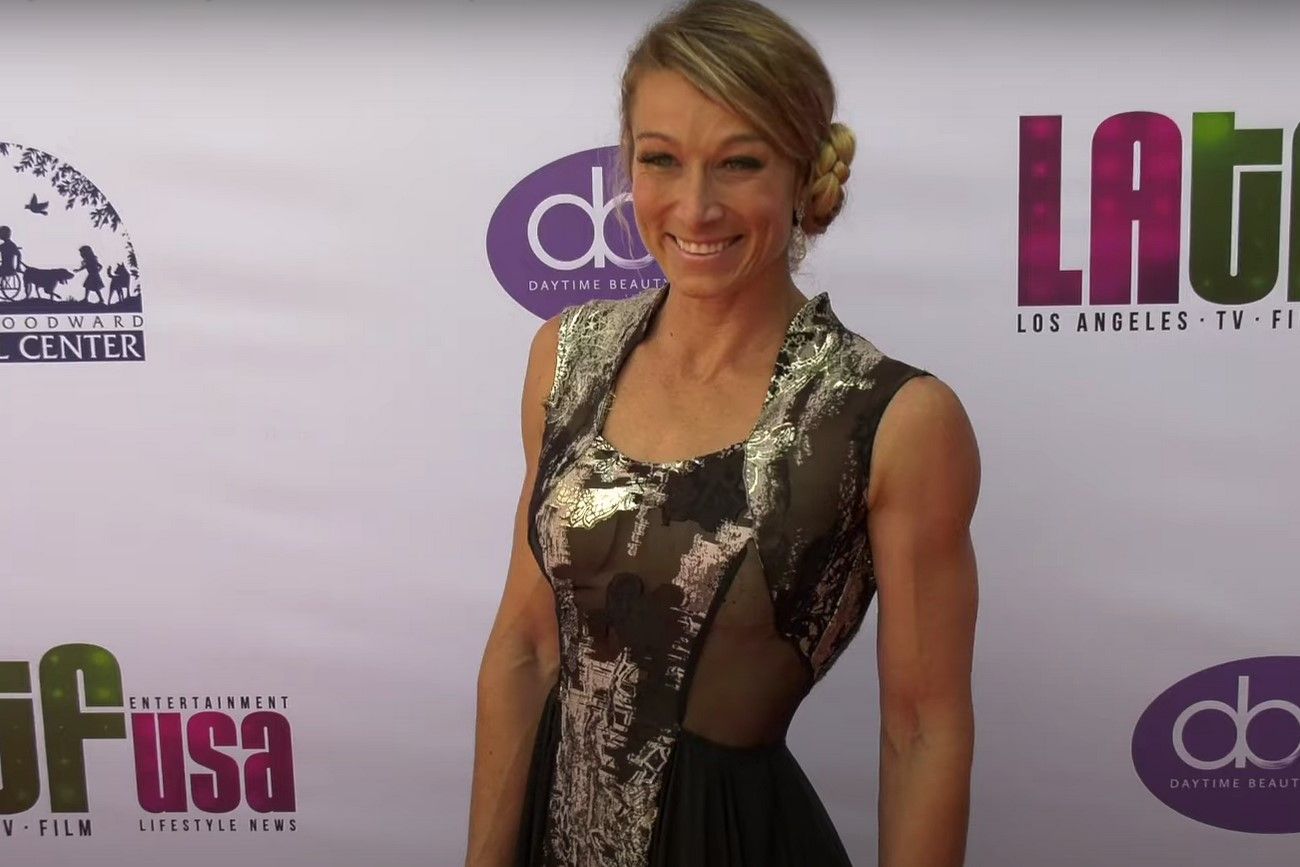 @Jessie Graff 2022 Daytime Beauty Awards Red Carpet Fashion/MaximoTV/YouTube.com
Clair Bidez — Snowboarding
Hailing from Colorado, Clair Bidez is a former professional snowboarder who has also made a mark as a research analyst. Growing up in a snowy environment, it was only natural for Bidez to immerse herself in snowboarding competitions from a young age. At the tender age of 16, she showcased her talent by securing a remarkable fifth-place finish at the U.S. Open held in Stratton Mountain. This outstanding achievement led to an invitation to join the esteemed U.S. Snowboarding Team. In 2006, Bidez attained the coveted title of Halfpipe Junior World Champion and further demonstrated her skills by securing fourth place in the halfpipe competition at Winter X Games XX. Despite facing injury, Bidez exhibited exceptional resilience, reaching the finals in every Olympic qualifier. Notably, she was recognized as a potential Olympian and even featured in the 2010 Sports Illustrated Swimsuit Edition.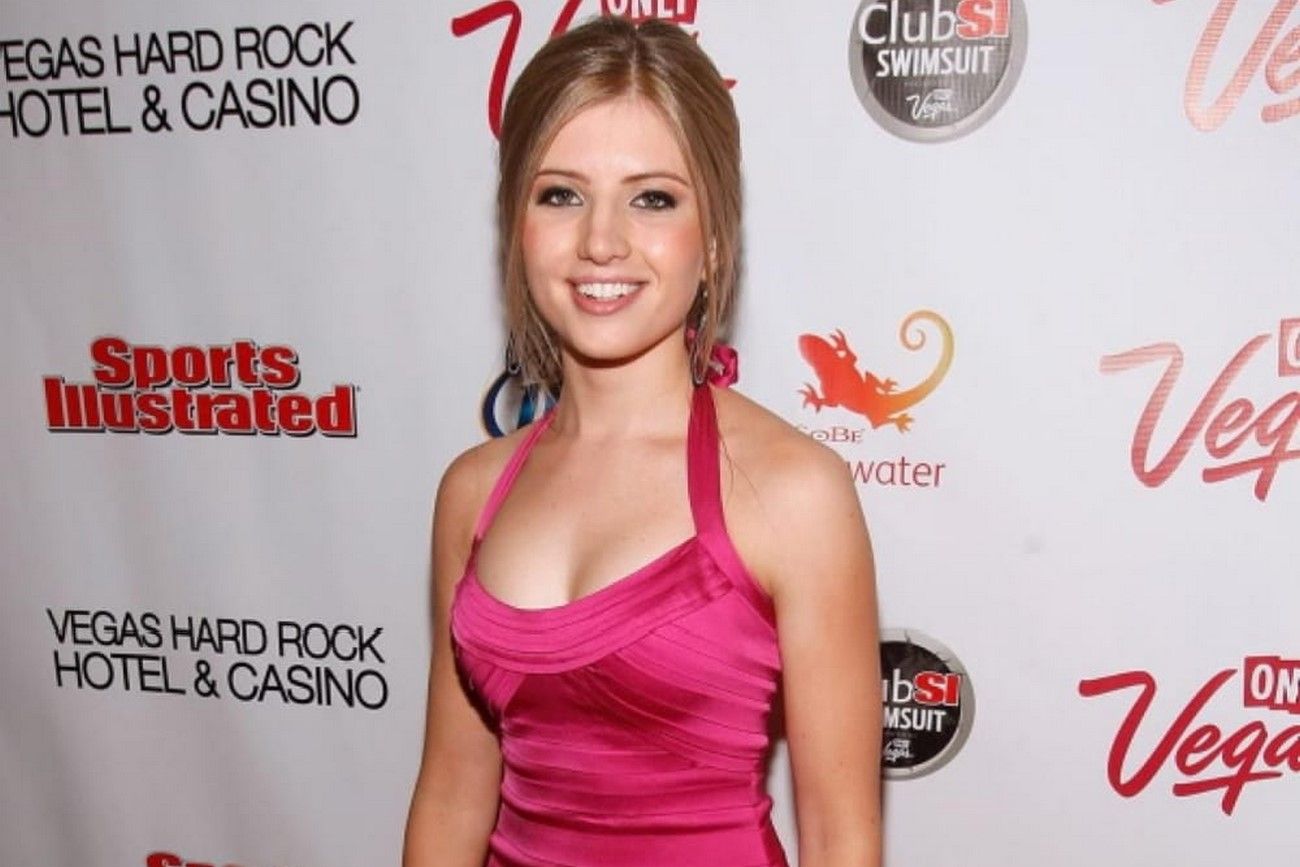 @Clair Bidez World's Most Beautiful Women of 2016/Bollywood Live News Cover/YouTube.com
Lisa Leslie — Basketball
At the age of 50, Lisa Leslie, a former professional basketball player, has transitioned into various roles within the basketball industry. Currently, she serves as the head coach for Triplets in the BIG3 professional basketball league. Additionally, Leslie has ventured into the realms of fashion modeling and studio analysis, notably as a studio analyst for Orlando Magic broadcasts on Fox Sports Florida. Prior to these pursuits, Leslie made a significant impact in the WNBA. Throughout her career, she achieved remarkable feats, including being a three-time WNBA MVP and a four-time Olympic gold medalist. Notably, Leslie holds the distinction of being the first player to dunk in a WNBA game and was rightfully recognized by fans as one of the top 15 players in WNBA history.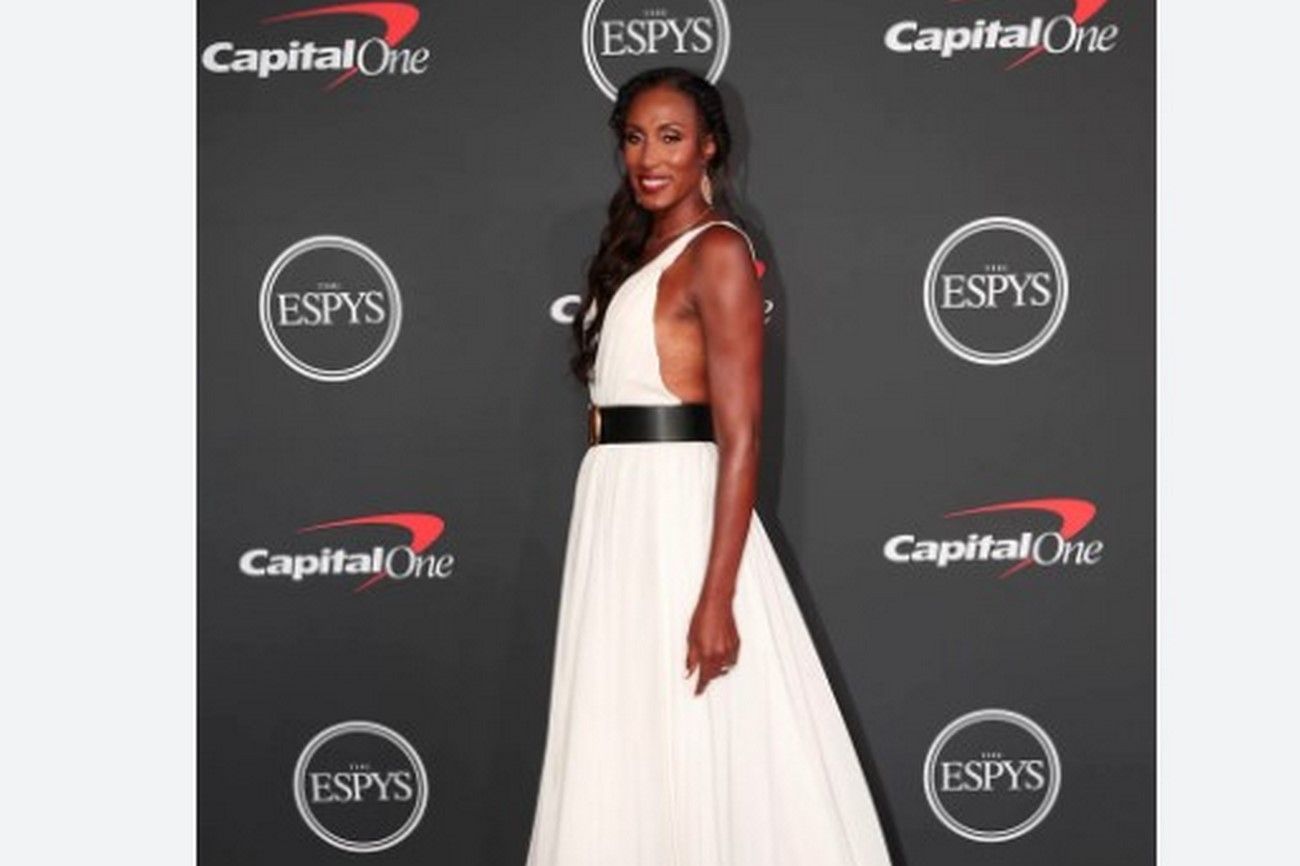 @Lisa Leslie at The 2013 ESPY Awards on 7/17/2013 in Los A.../SuperPopVIP/YouTube.com
Nikki Bella — Wrestling
While some may associate Nikki Bella as John Cena's former girlfriend, it's important to acknowledge her own achievements as a professional wrestler in the WWE. Alongside her twin sister, Nikki Bella climbed her way to the top of the industry. Throughout her career, she became a two-time WWE Divas Champion, boasting the longest reign with that title. Following her retirement, Nikki Bella ventured into television work, expanding her presence beyond the wrestling ring. Notably, she is also expecting her first child with her partner, Russian dancer Artem Chigvintsev, who she partnered with during Season 25 of Dancing With the Stars.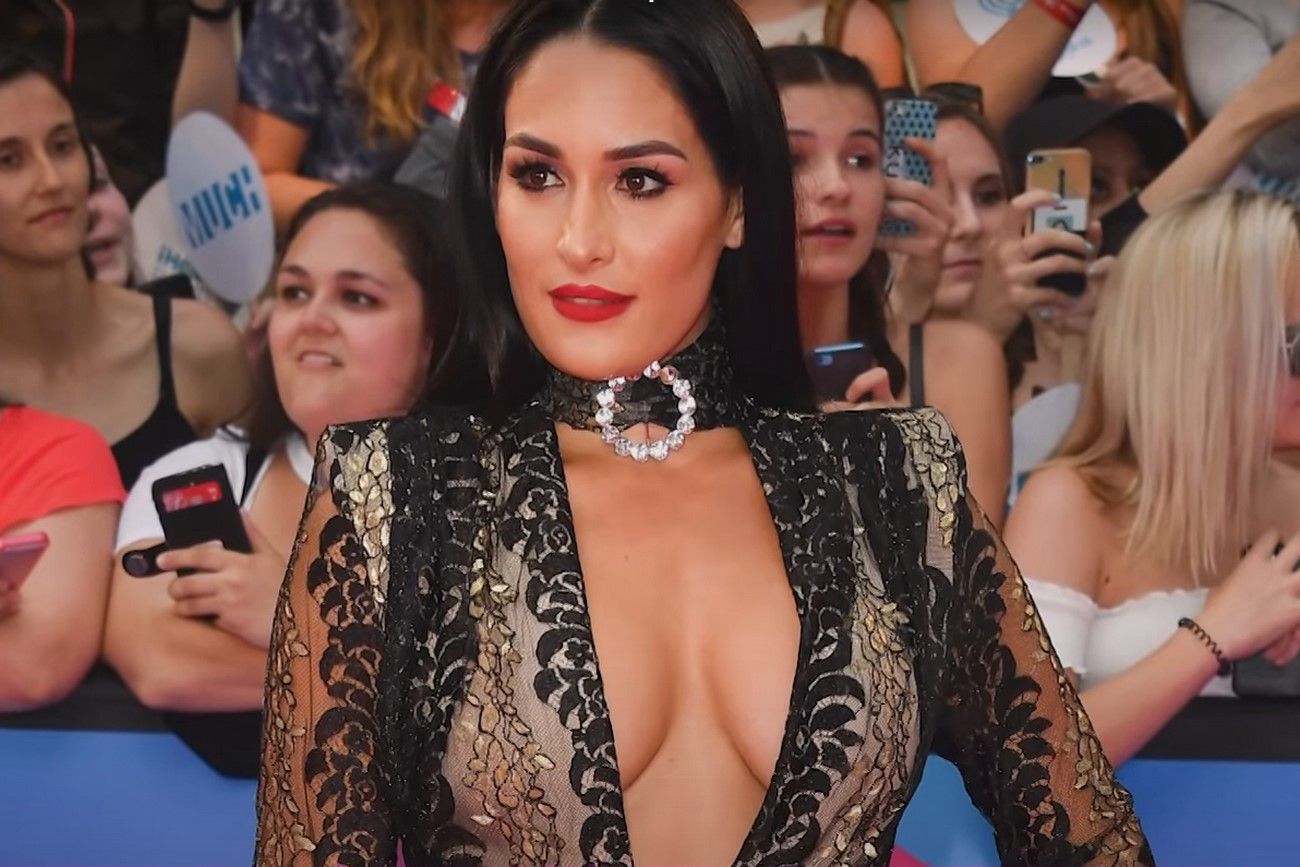 @WWE Star Nikki Bella Arrives on the iHeartRadio MMVAs Red Carpet/MUCH/YouTube.com
Barbara Blank — Wrestling
Recognized primarily by her stage name Kelly Kelly, Barbara Blank initially embarked on a career in modeling before transitioning into the world of professional wrestling. However, her fascination with the sport dates back to her early years. With a foundation in gymnastics and cheerleading, Kelly Kelly's prowess in the ring has been nothing short of remarkable since her WWE debut in 2008. In addition to her accomplishments as a model and wrestler, she has also ventured into the realm of reality television, making appearances on notable shows such as WWE Tough Enough and Celebrity Fit Club: Boot Camp.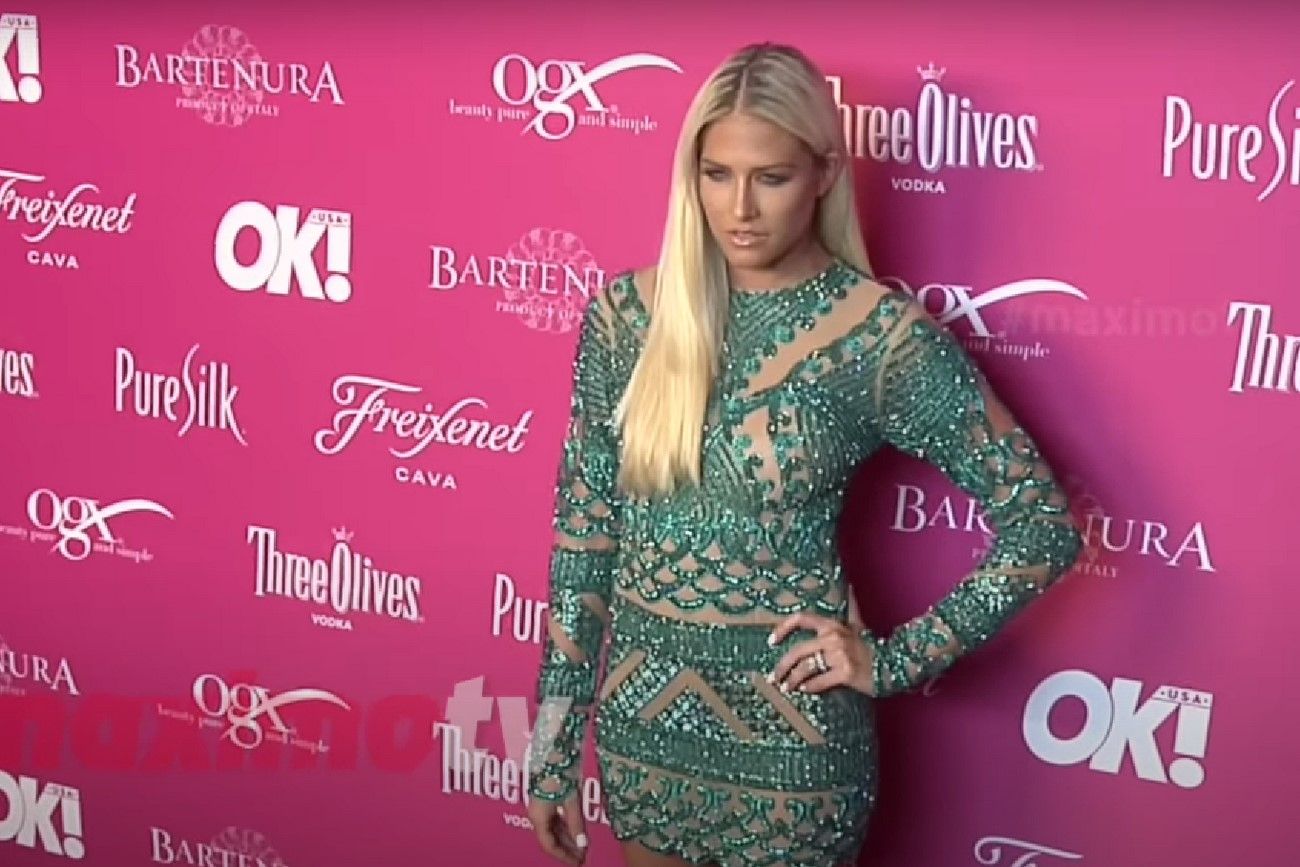 @Barbie Blank aka Kelly Kelly ★ OK! LA 2016 Red Carpet #WWE #Wrestler/MaximoTV/YouTube.com
Regan Smith — Swimming
Hailing from Minnesota, Regan Smith is a talented swimmer who currently holds world records in both the 100 and 200-meter backstroke events. Despite her young age of 18, Smith achieved the remarkable distinction of being crowned Swimmer of the Year in 2019. Additionally, she contributed to the USA women's 4x100m Medley Relay team, which set another world record. Smith's accomplishments in swimming are a testament to her exceptional abilities and potential for future success. Her determination and magnetic personality indicate that she is destined for great achievements, not only in the pool but also in other aspects of life. The future holds endless possibilities for this remarkable individual.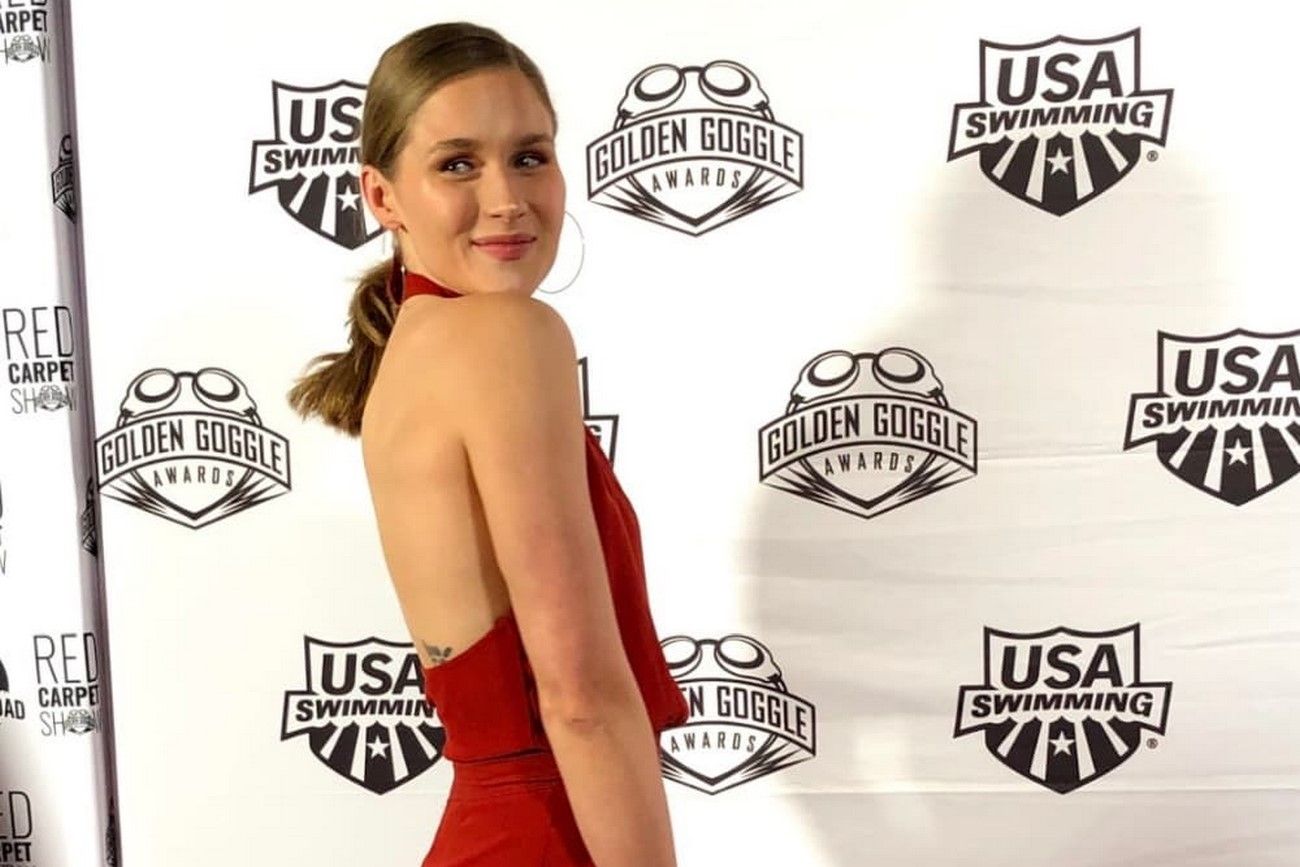 @Regan Smith: "Let's see where it takes me..." | FINA World Junior Swimming Championships/World Aquatics/YouTube.com
Allison Baver — Speed Skating
Ever since embarking on her professional career as a speed skater, Allison Baver has established herself as a formidable presence in the sport. Her remarkable achievements include a third-place ranking in the overall world rankings during the 2005/06 season. At the 2006 Winter Olympics in Italy, Baver displayed her prowess by finishing seventh in the women's 500m competition, despite a collision with the Czech Republic's Kateřina Novotná in the final. This collision unfortunately prevented her from contending for fifth place. Undeterred, Baver has continued to make waves in the world of speed skating. Her remarkable contributions and dedication to the sport were recognized when she was elected as the Vice President of the U.S. Olympians and Paralympians Association, a role she has held for a four-year term.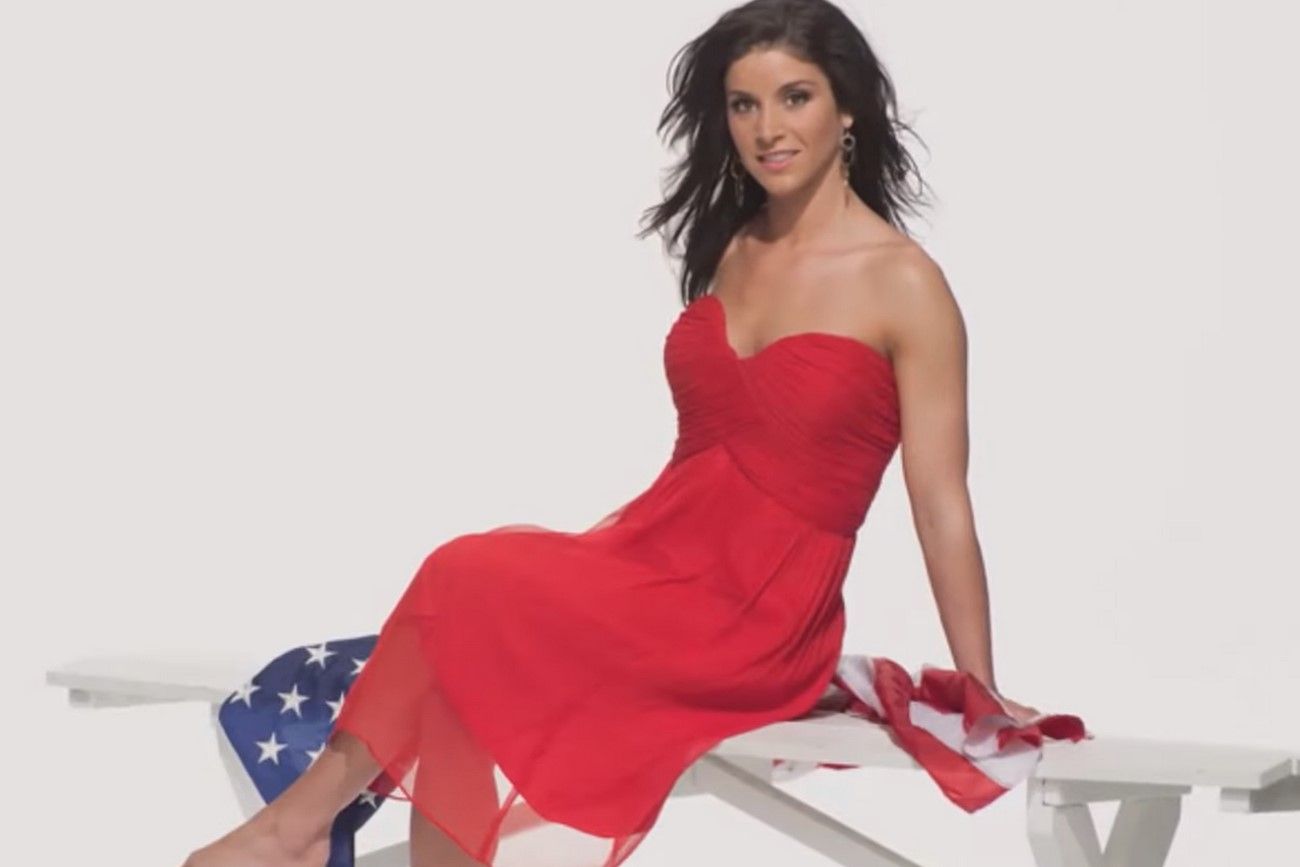 @⛸ Allison Baver . Hot, Sexy Speed Skater 2018 ⛸Athletic Beauty | LERYN FRANCO | Javelin Throw/Sexy Sport 2017/YouTube.com
Sally Fitzgibbons — Surfing
Sally Fitzgibbons, a remarkable professional surfer hailing from Australia, has made waves in the world of surfing. With incredible skill and determination, she climbed her way to the coveted No. 1 position in women's surfing, securing the title after a remarkable victory at the 2019 Rio Pro. Fitzgibbons made her debut on the Association of Surfing Professionals World Tour in 2009 at the young age of 19, showcasing her exceptional talent and passion for the sport. Beyond her accomplishments in surfing, Fitzgibbons has also demonstrated her versatility as an athlete, participating in various sports such as touch football, soccer, surfing, and cross-country running. In 2019, she displayed her incredible talent by placing fifth on the Women's Championship Tour leaderboard, further solidifying her status as a surfing superstar.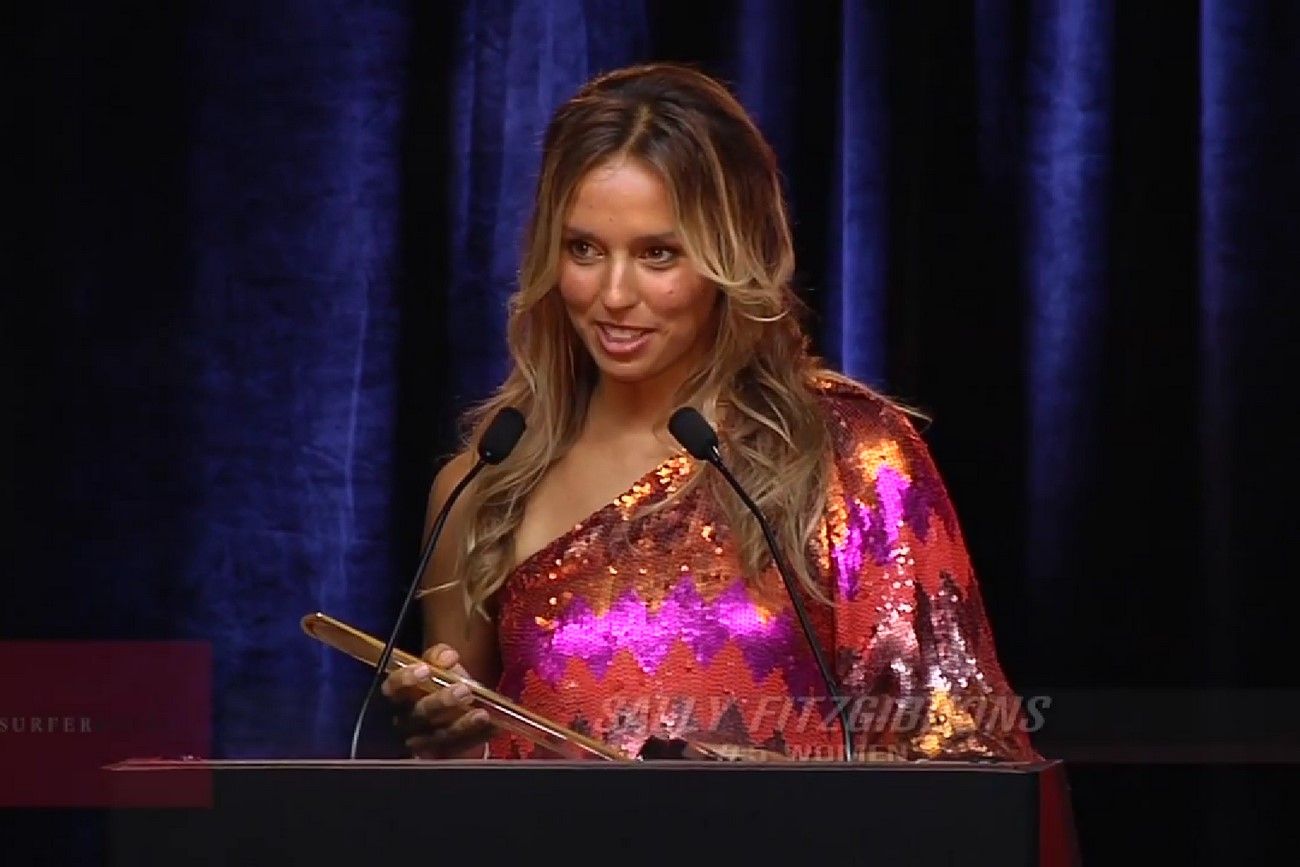 @2011 SURFER Poll Women's No. 5: Sally Fitzgibbons/SURFER/YouTube.com
Tori Bowie — Track
Hailing from Sand Hill, Mississippi, Tori Bowie is a formidable track and field athlete who made her mark in the sport. Her journey started in high school, where she began honing her skills on the track. With remarkable talent, Bowie went on to compete and achieve victories on a global scale. After her successful collegiate career, Bowie turned professional and made a name for herself on the international stage. Her accomplishments include representing the United States as an Olympian in 2016 and earning the prestigious distinction of being a three-time Olympic medalist. Additionally, Bowie secured the title of 100m world champion in 2017, further solidifying her status as a top athlete. In May 2023, Tori was found dead in her home. The athlete was pregnant, and the delivery had complications. She didn't have a chance to seek medical assistance and passed away prematurely.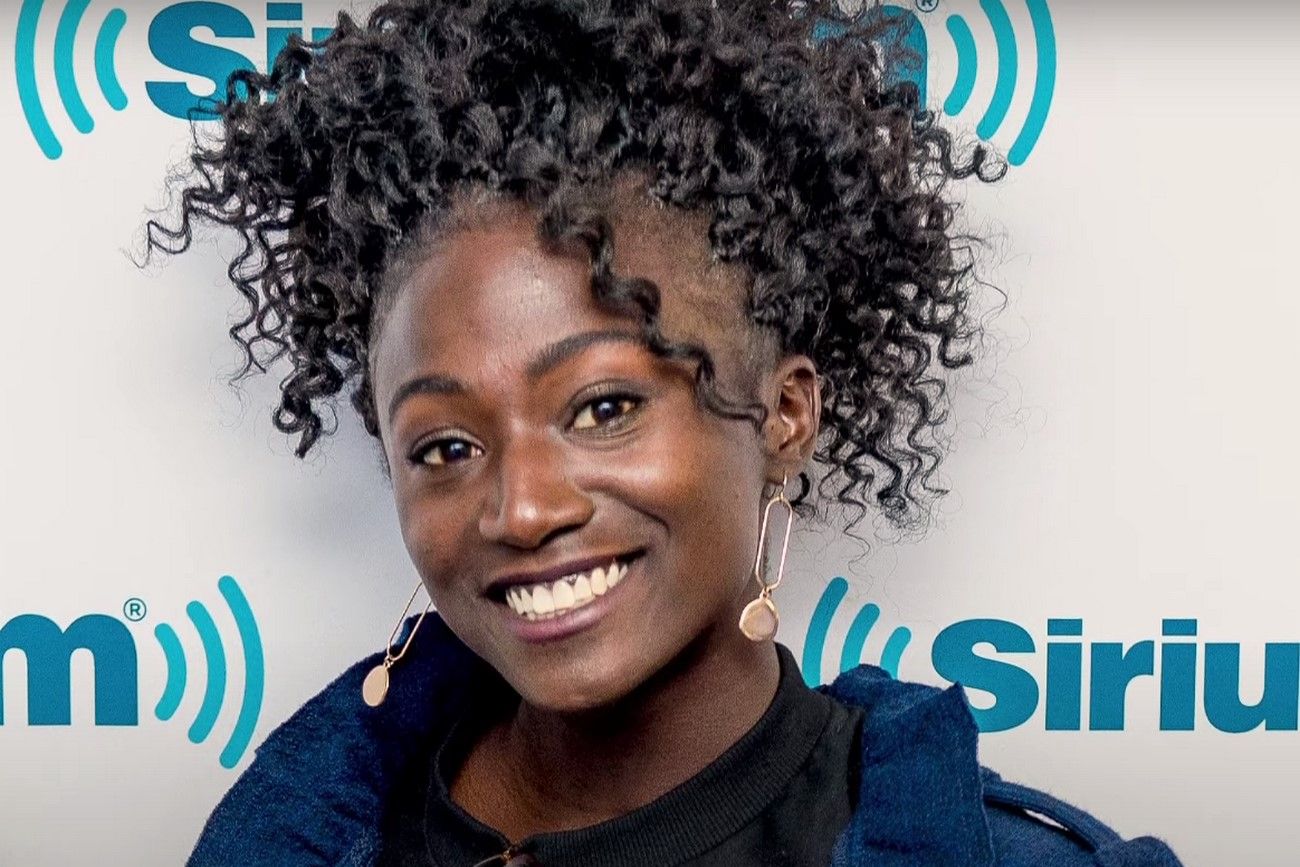 @Olympian Tori Bowie Was Excited To Be A Mom Before Her Death/Access Hollywood/YouTube.com
Serena Williams — Tennis
Serena Williams, a household name in the world of tennis, needs no introduction. Her exceptional talent and numerous accomplishments have garnered widespread recognition, making her a prominent figure known to all. With an impressive record of over 23 titles, Serena holds the distinction of winning more titles in the Open Era than any other player, male or female. Beyond her prowess on the court, she is celebrated for her body-positivity and remarkable fashion sense, serving as an inspiration to girls and women worldwide. Despite being 41 years old and a proud mother to a baby girl, courtesy of her husband Alexis Ohanian, Serena continues to defy expectations and displays no signs of slowing down. Such unwavering determination should come as no surprise to those familiar with her extraordinary journey.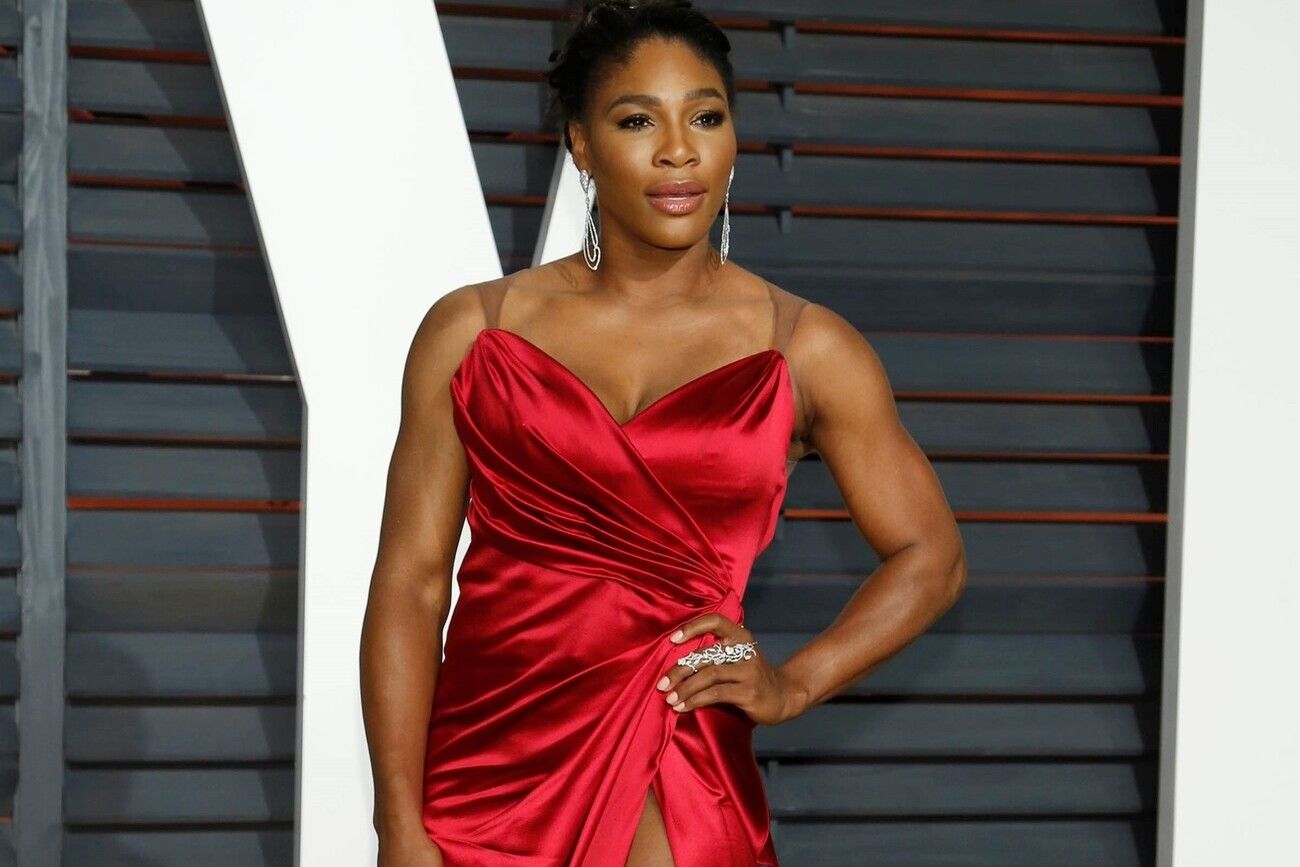 Aly Raisman — Gymnastics
Renowned for her exceptional skills and leadership, Aly Raisman solidified her status as an extraordinary gymnast during her career. Serving as the captain of Team USA's "Fierce Five" in the 2012 London Olympics and the "Final Five" in the 2016 Rio Games, Raisman played a pivotal role in guiding her team to victory on both occasions. Raisman's individual success shone brightly as well. In the 2016 Olympics, she not only contributed to her team's triumph but also secured medals for herself. With a remarkable tally of six Olympic medals, Raisman stands as the second-most decorated Olympic gymnast in American history, surpassed only by Shannon Miller. While Raisman retired from competitive gymnastics in January 2020, her legacy as one of the most skilled gymnasts of her era is firmly established.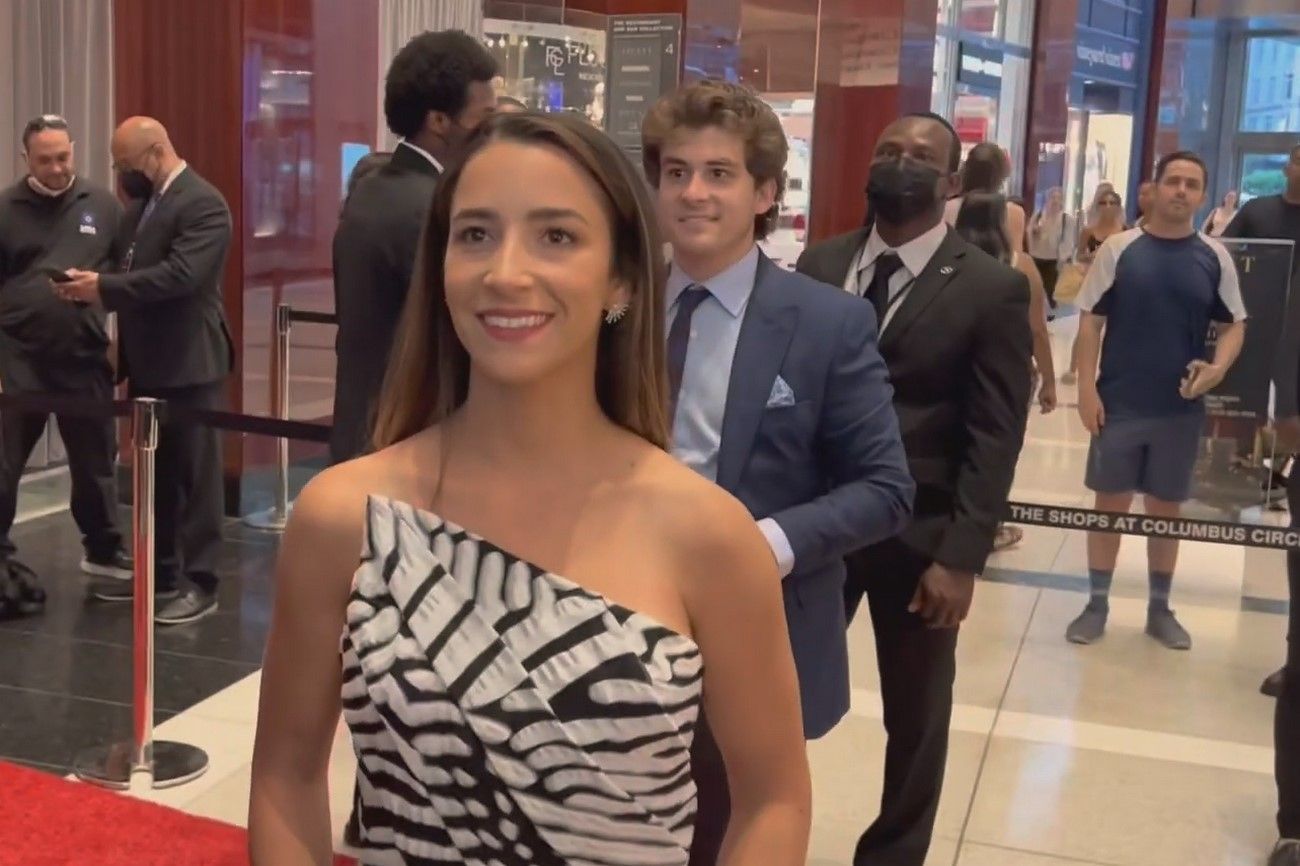 @It's a 10: Olympic Gold Medal Gymnast Aly Raisman on the Red Carpet at the Time 100 Gala in NYC/RainmakerNYC/YouTube.com
Danica Patrick — Racing
Danica Patrick, an iconic figure in the world of race car driving, has garnered immense popularity as a media sensation and a beloved figure among fans. With her remarkable achievements, Patrick has shattered gender barriers in NASCAR and served as a trailblazer for women in the sport. Her impact has been monumental. Patrick's success soared in American open-wheel racing, establishing her as one of the most accomplished women in its history. Her crowning moment came in 2008 when she claimed victory at the Indy Japan 300, becoming the only woman to win an IndyCar Series race. This remarkable feat solidified her status as a trailblazer and showcased her exceptional talent. Beyond her thrilling pursuits on the racetrack, Patrick has also captured attention on the red carpet. Her charisma and style have made her a notable presence at various high-profile events. Overall, Danica Patrick's remarkable career, both on and off the track, has propelled her to iconic status and left an indelible mark on the world of race car driving.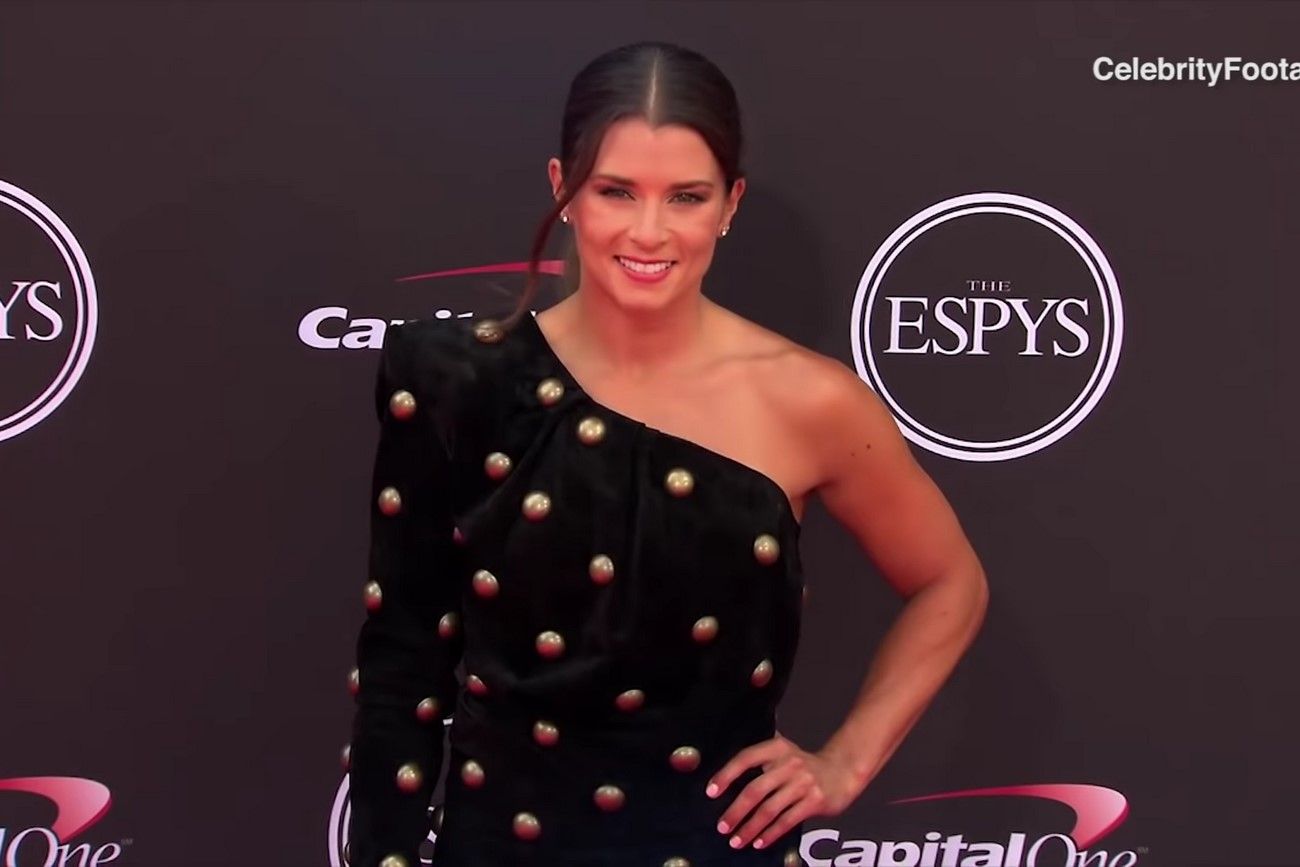 @Danica Patrick looks cute with Aaron Rogers at the 2018 ESPYs/Daily Mail/YouTube.com
Sloane Stephens — Tennis
Sloane Stephens, a talented tennis player hailing from Florida, has undeniably established herself as one of the most accomplished American athletes in the sport, following in the illustrious footsteps of the Williams sisters. Born into a family with a sporting background, including collegiate swimming and professional American football, Stephens swiftly gained global recognition and a devoted fan base. Her remarkable achievements include clinching the title of the 2017 U.S. Open champion, as well as attaining a career-high world ranking of No. 3 after Wimbledon in 2018. At the age of 30, Stephens continues to display her prowess on the court, and it appears that she has no intentions of departing from the tennis scene anytime soon, unless it's for a captivating red carpet appearance, as seen in the photo you referenced.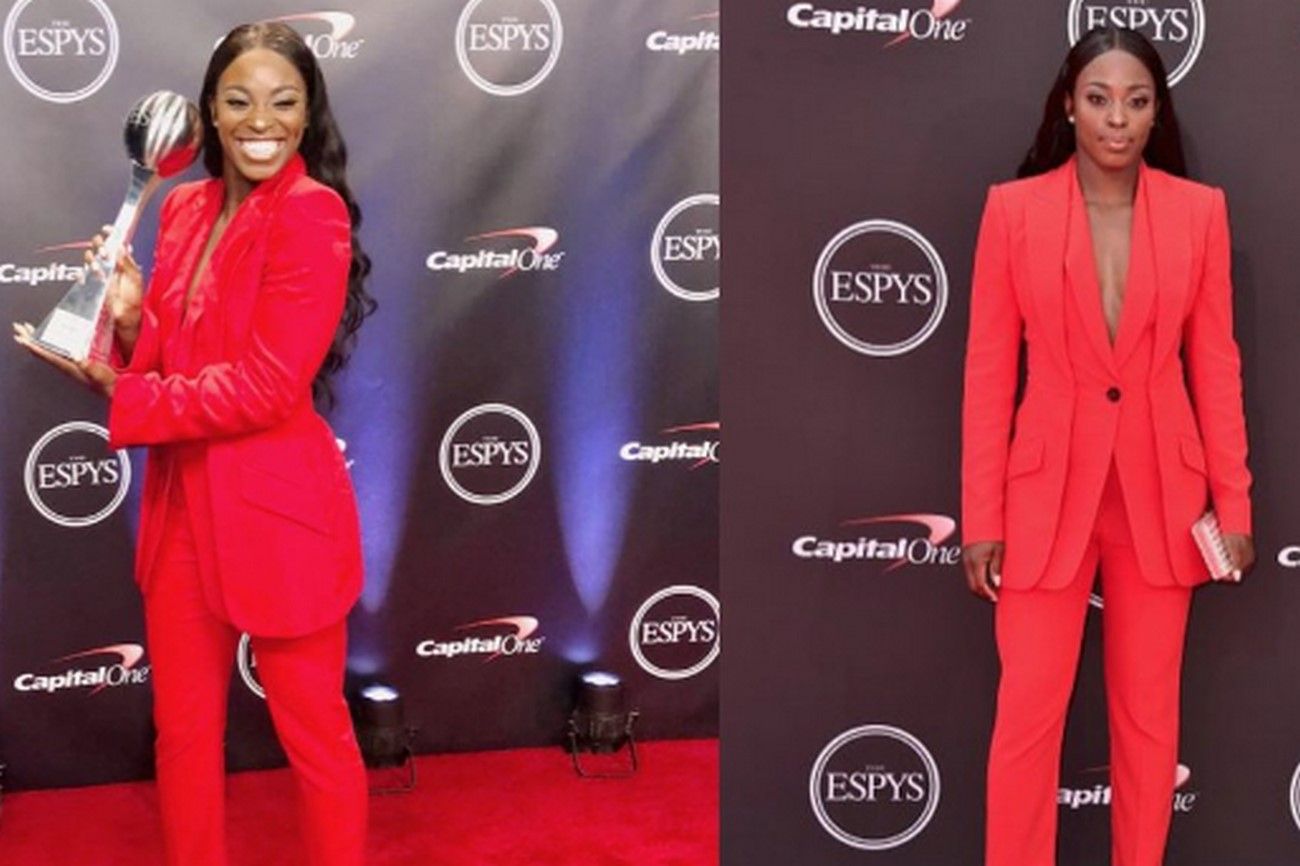 @WTA FINALS Red Carpet - GROUPS and Matches BEST 8 FEMALE TENNIS PLAYERS/sport skill wonder/YouTube.com
Tarah Gieger — Motocross Racing
No doubt about it, Tarah Gieger is a true rebel in her field. Hailing from Puerto Rico, Gieger has made a name for herself as a professional motocross racer. While she initially started out with surfing, her passion swiftly shifted towards motorcycles when she was just 10 years old. Her early training in the mountainous region of San Sebastián proved invaluable, as Gieger accomplished a remarkable feat by becoming the only female rider to successfully execute a backflip on a motorcycle. Her daring and skill on the track have earned her numerous X Games medals, solidifying her position as the most decorated female motocross racer in history. Gieger's extraordinary accomplishments have left her competitors in awe and firmly established her as a trailblazer in the world of motocross.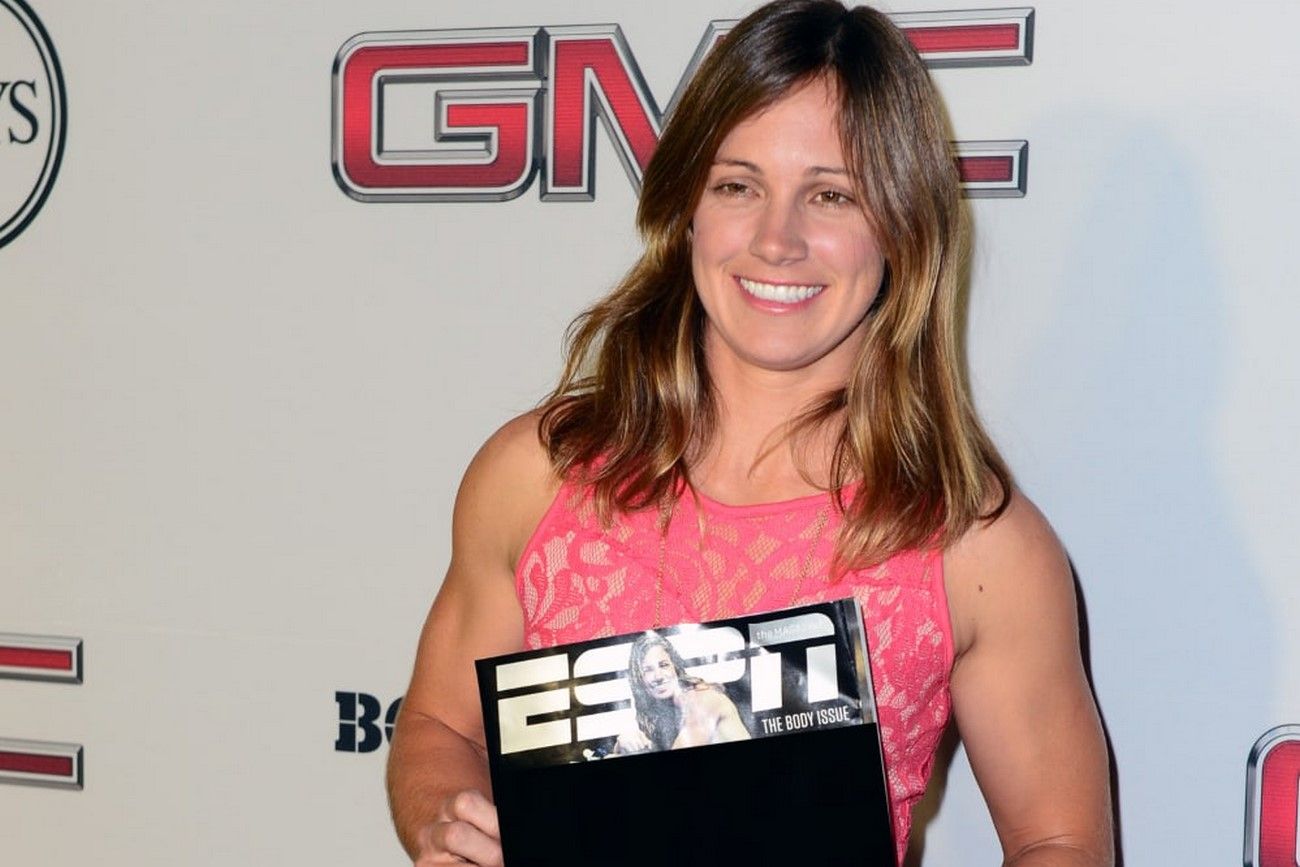 @Ashley Fiolek and Tarah Gieger: Women's Motocross Stars/Whistle/YouTube.com
Becky Lynch — Wrestling
Emerging from Ireland, Becky Lynch is a formidable force in the world of professional wrestling. With a passion for the sport ignited during her childhood as she watched wrestling matches with her brother, Richy (who later became known as Gonzo de Mondo), Lynch's journey has been marked by determination and resilience. After a hiatus prompted by a serious head injury in 2006, she made a triumphant return to the ring in 2018. Just a year later, Lynch etched her name in history by setting a new record for the longest reign as Raw Women's Champion, reigning for an impressive 399 days. Currently, Lynch is on a hiatus as she and Seth Rollins, her partner, eagerly anticipate the arrival of their first child, with the joyful news announced in May 2020.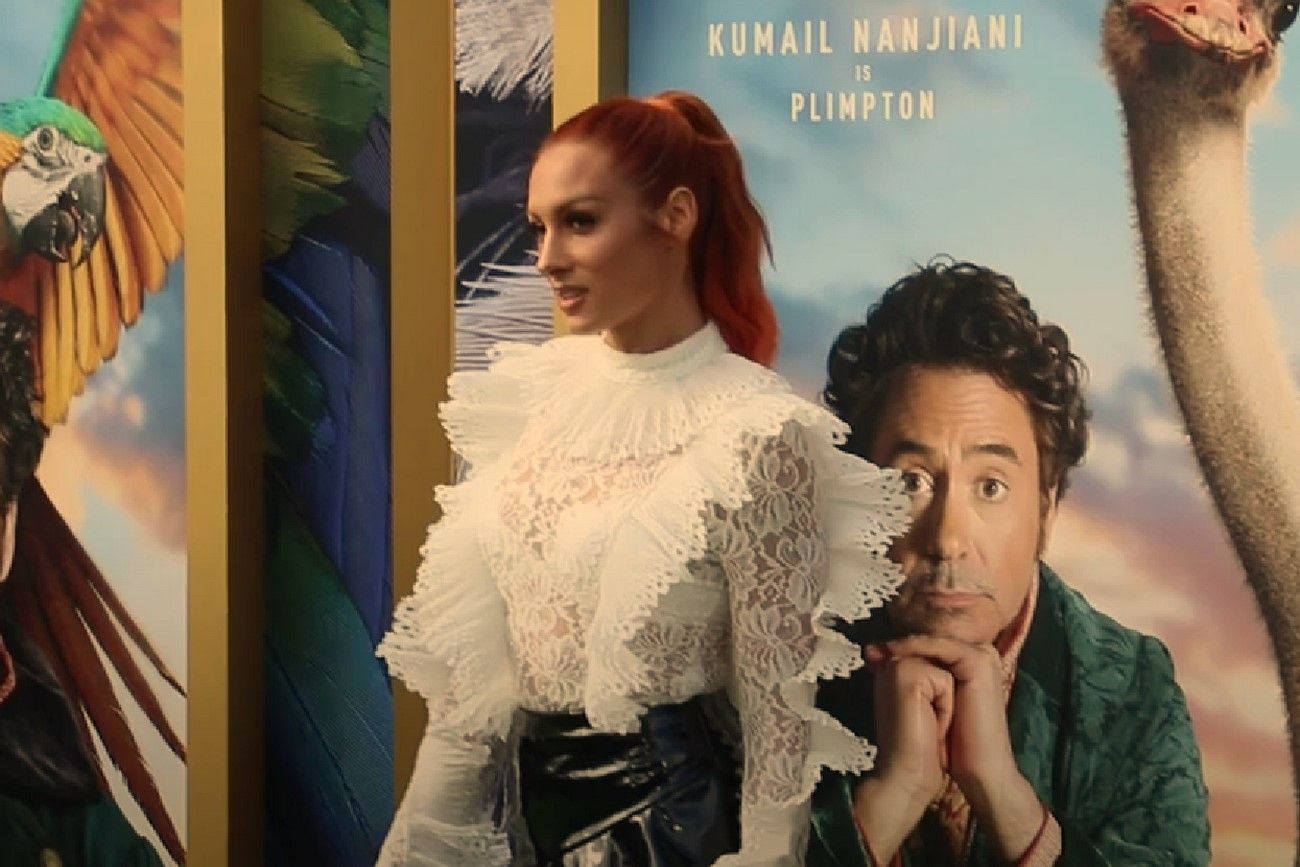 @Becky Lynch and Seth Rollins - Premiere of Dolittle/Becky Lynch/YouTube.com
Candace Parker — Basketball
Candace Parker, the talented younger sister of former NBA player Anthony Parker, has been leaving her mark in the WNBA since 2008. She made history as the first woman to dunk in an NCAA tournament game and followed it up by becoming the second woman in WNBA history after her teammate Lisa Leslie made history by executing a dunk during a regular WNBA game against the Indiana Fever. In addition to her on-court achievements, Parker has also been recognized with the prestigious Gatorade National Girls Basketball Player award twice in her career. Beyond her impressive basketball skills, Parker effortlessly shines on the red carpet, showcasing her style and grace.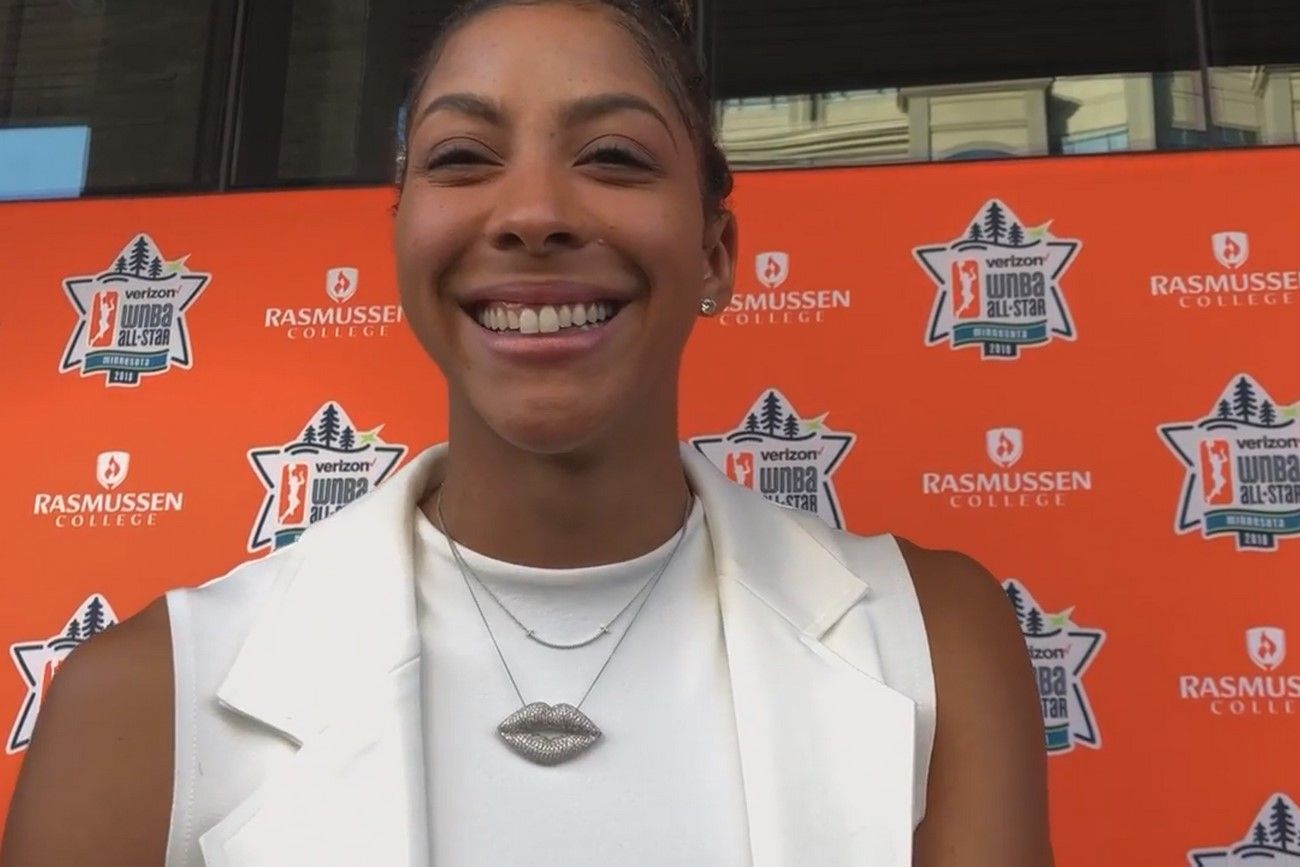 @2018 WNBA All-Star Reception with Candace Parker/LASportsAccess/YouTube.com
Ashley Wagner — Figure Skating
Since starting her ice-skating journey at the tender age of five in 1996, Ashley Wagner embarked on an extraordinary and enduring career. Her remarkable talent and unwavering dedication propelled her to great heights in numerous international competitions, including the prestigious Olympics. Noteworthy accolades in her repertoire include being crowned the 2012 Four Continents champion and securing a bronze medal in the team event at the 2014 Olympics. Additionally, she showcased her exceptional skills by capturing the silver medal at the 2016 World Championships. Throughout her illustrious career, Wagner celebrated triumphs in five Grand Prix events and solidified her reputation as a three-time U.S. national champion. Despite her retirement in 2019, her extraordinary achievements ensure that her indelible impact on the sport will be cherished and remembered for years to come.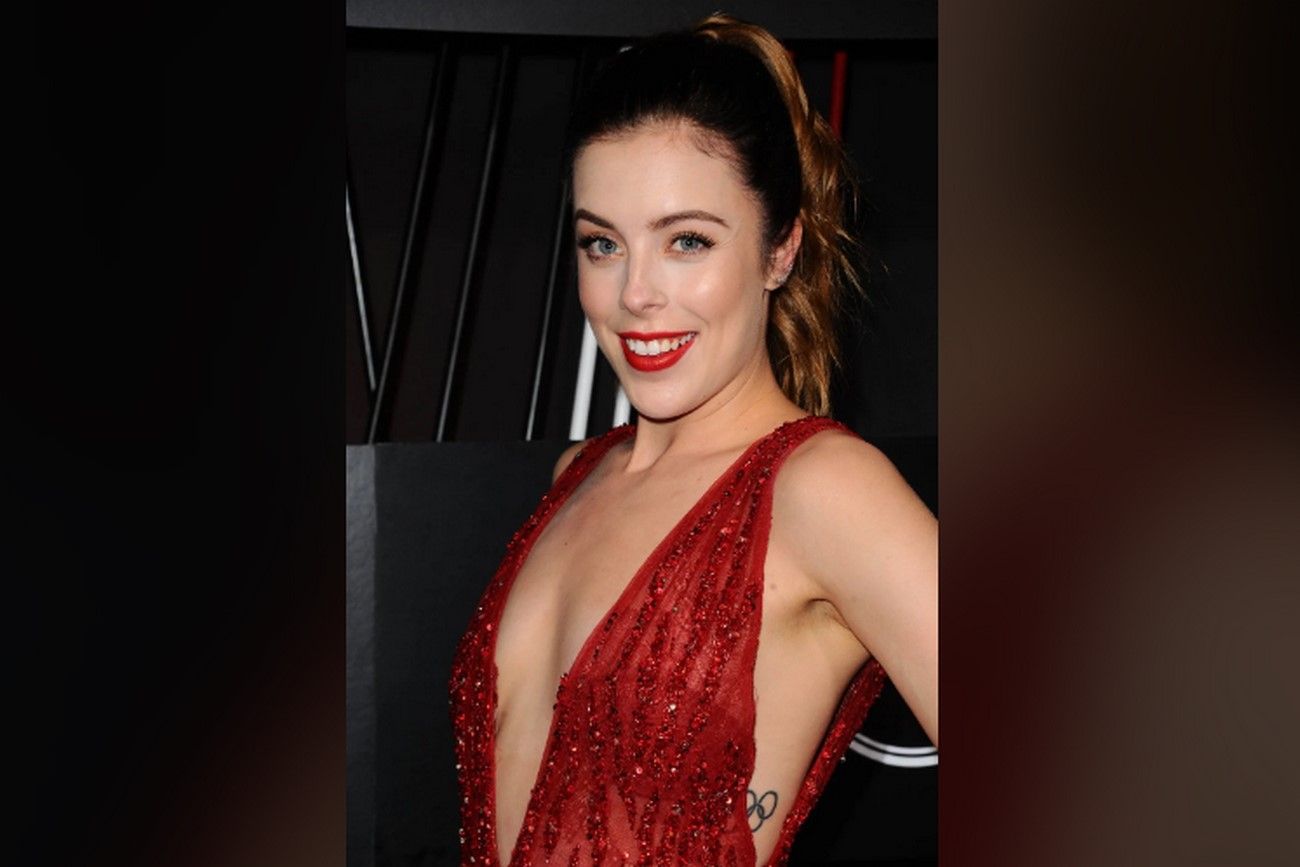 @older_than_I_look/reddit.com
Hope Solo — Soccer
Recognized as one of the premier female goalkeepers globally, Hope Solo left an indelible mark during her time with the United States women's national soccer team from 2000 to 2016. Her accomplishments include being a World Cup champion and a two-time Olympic gold medalist, showcasing her exceptional skills between the posts. Beyond her prowess on the soccer field, Solo ventured into other endeavors. She embraced the challenge of the dance floor as a contestant on the popular television show Dancing With the Stars. Additionally, Solo's captivating presence led to opportunities in modeling, with appearances in various magazines. In 2012, she also released her autobiography, titled Solo: A Memoir of Hope, where she shared her personal journey and experiences.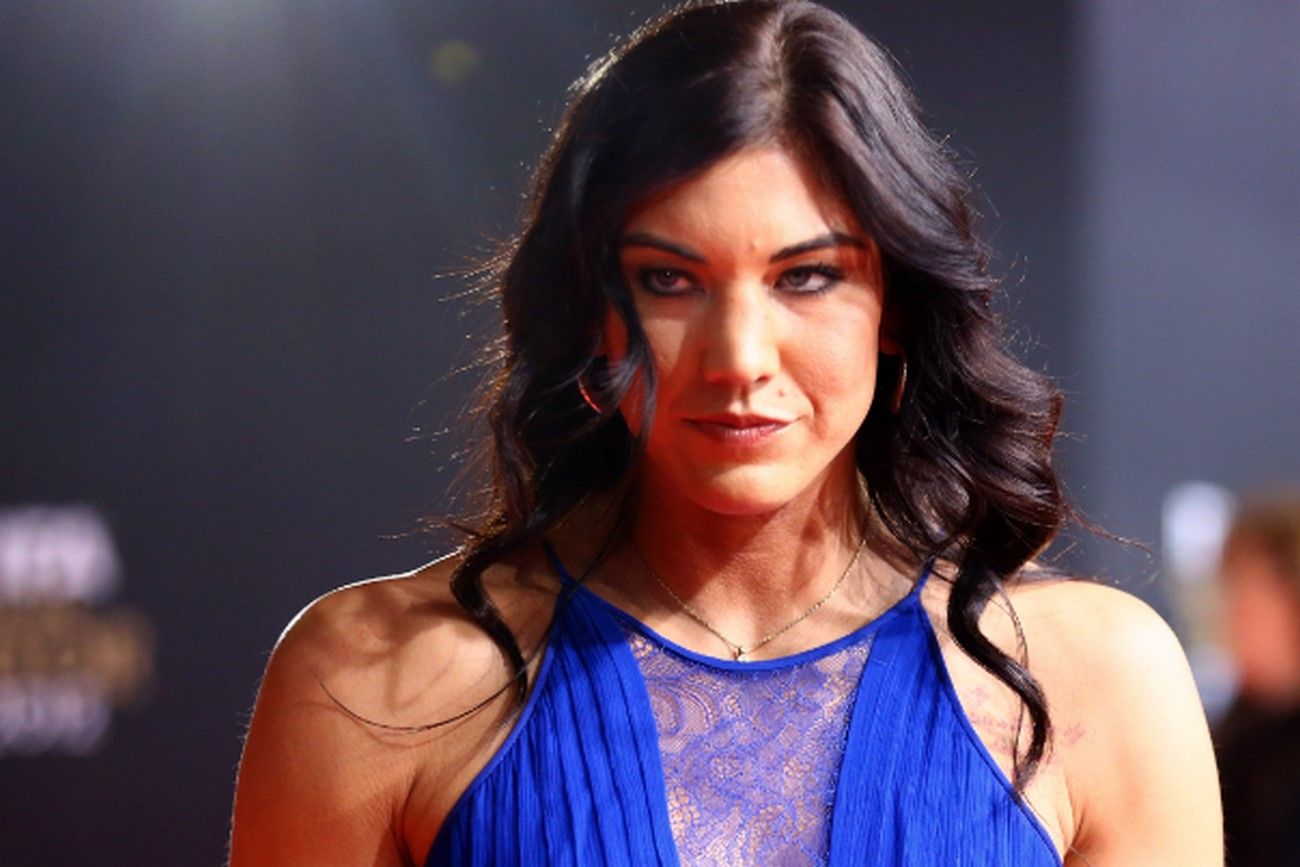 @Hope Solo Ballon d'Or Red Carpet Interview/TheWorldOliy/YouTube.com
Nancy Lopez — Golf
Following her professional debut in 1977, Nancy Lopez left an indelible mark on the world of golf, pioneering opportunities for women to earn a living through the sport. Displaying prodigious talent from a young age, Lopez clinched her first amateur tournament victory at the tender age of 12. She joined the LPGA Tour in 1977 and went on to capture an impressive 48 LPGA Tour events, including three major championships. Having retired from competitive golf, Lopez was recently honored with induction into the prestigious World Golf Hall of Fame. Currently residing in Florida, she hosts an annual golf tournament in support of the charity AIM (Adventures in Movement).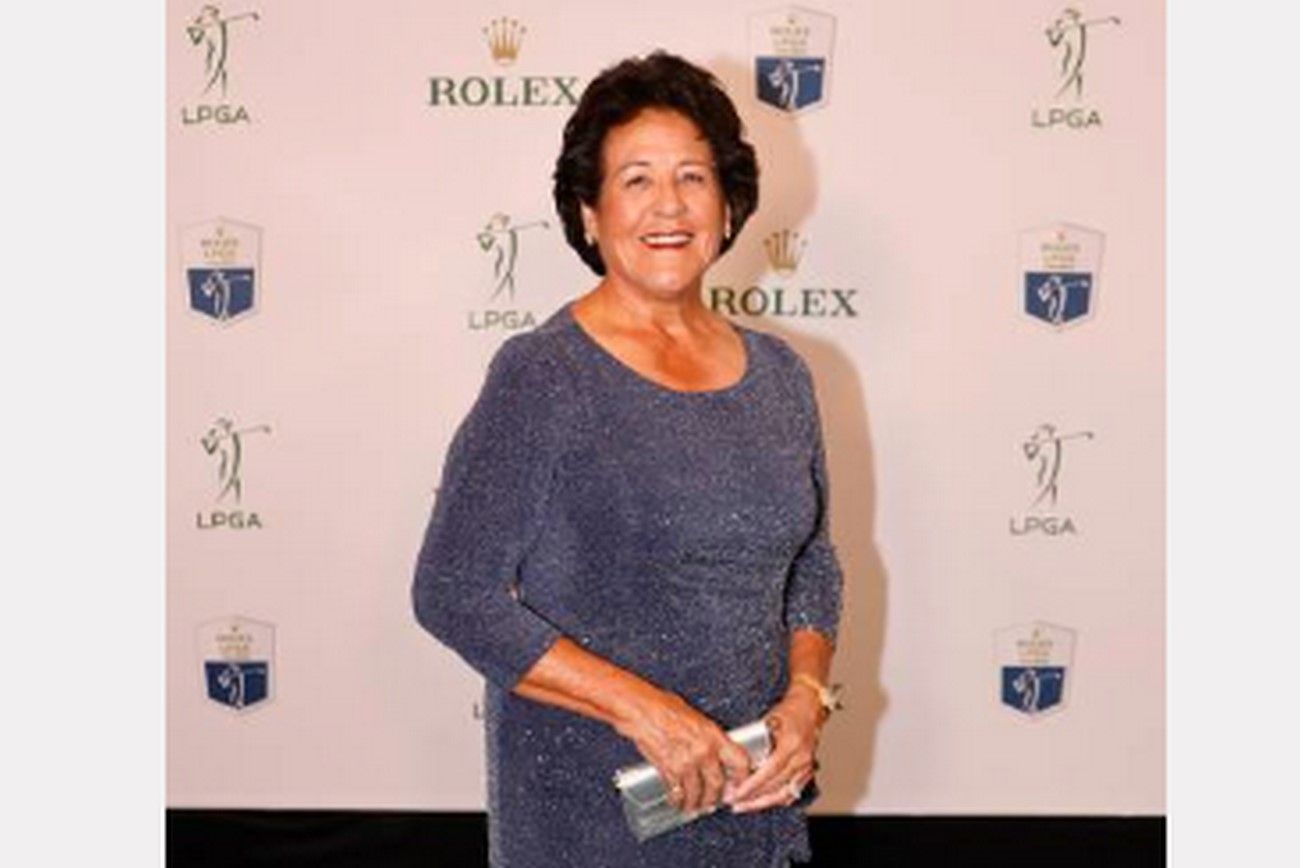 @Nancy Lopez – 2016 Inductee Oklahoma Golf Hall of Fame/Oklahoma Golf Hall of Fame/YouTube.com
Lindsey Vonn — Skiing
With a multitude of accolades to her name, Lindsey Vonn, the renowned alpine ski racer, is no stranger to red carpet affairs. Throughout her illustrious career, Vonn has amassed an impressive array of achievements, including four World Cup overall championships, a feat accomplished by only two female skiers in history. Given her remarkable track record, it comes as no surprise that Vonn's exceptional talents have been recognized by prestigious awards. In 2010, she was honored with the Laureus Sportswoman of the Year Award, further solidifying her status as a sporting icon. Additionally, Vonn was named the United States Olympic Committee's Sportswoman of the Year, a testament to her outstanding contributions to the world of alpine skiing.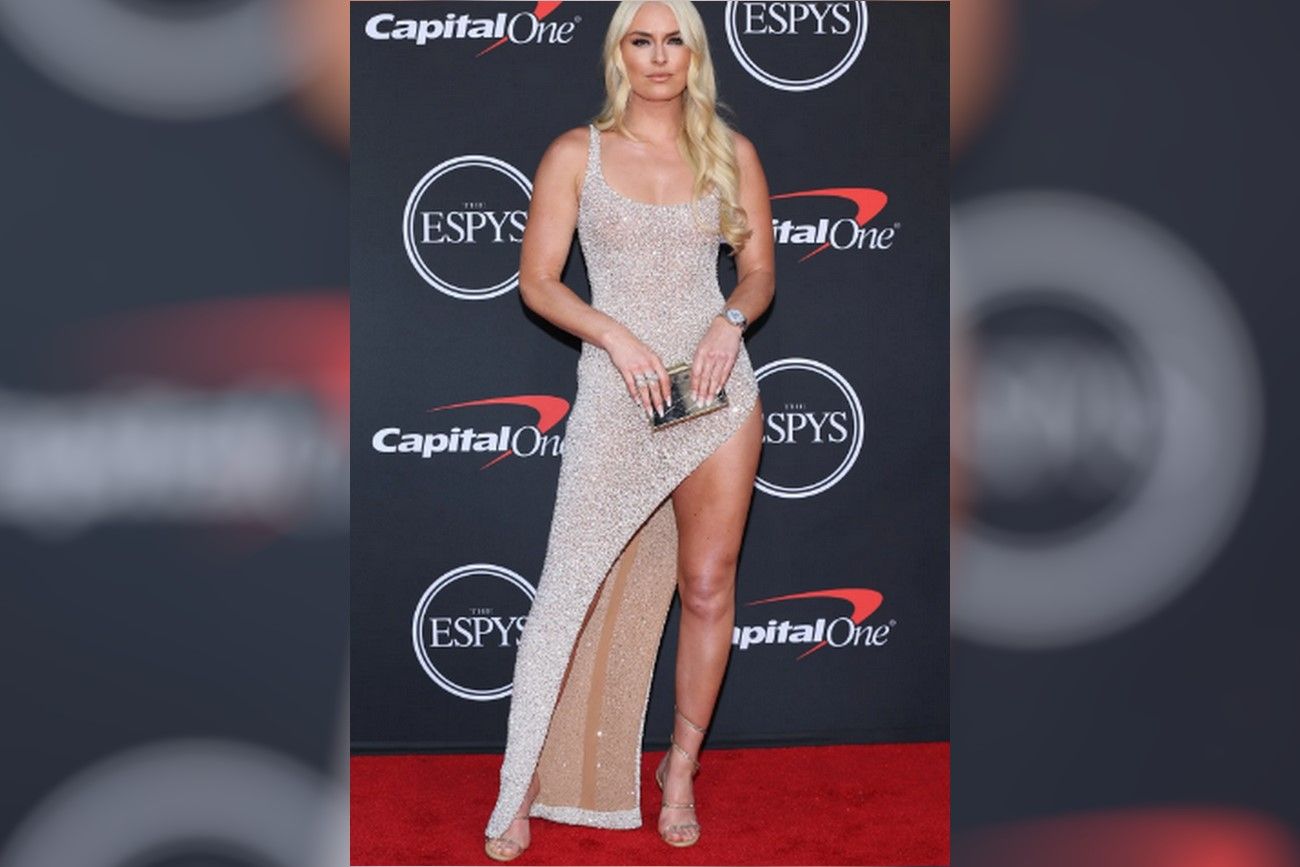 @[deleted]/reddit.com
Silje Norendal — Snowboarding
Silje Norendal, a 29-year-old snowboarder from Norway, has cemented her status as a prominent figure in the sport. Whether she's competing at renowned events such as the Winter X Games, where she has secured multiple gold medals, or proudly representing her country in the Winter Olympics, Norendal's exceptional skills on the board are unquestionable. Her landings are flawless, and she effortlessly pulls off impressive 900s. In 2018, she even added a Cab 1080, a switch-frontside spin, to her already impressive repertoire. But it's not just her undeniable talent that sets her apart; Norendal radiates style and grace, embodying a perfect blend of athleticism and elegance.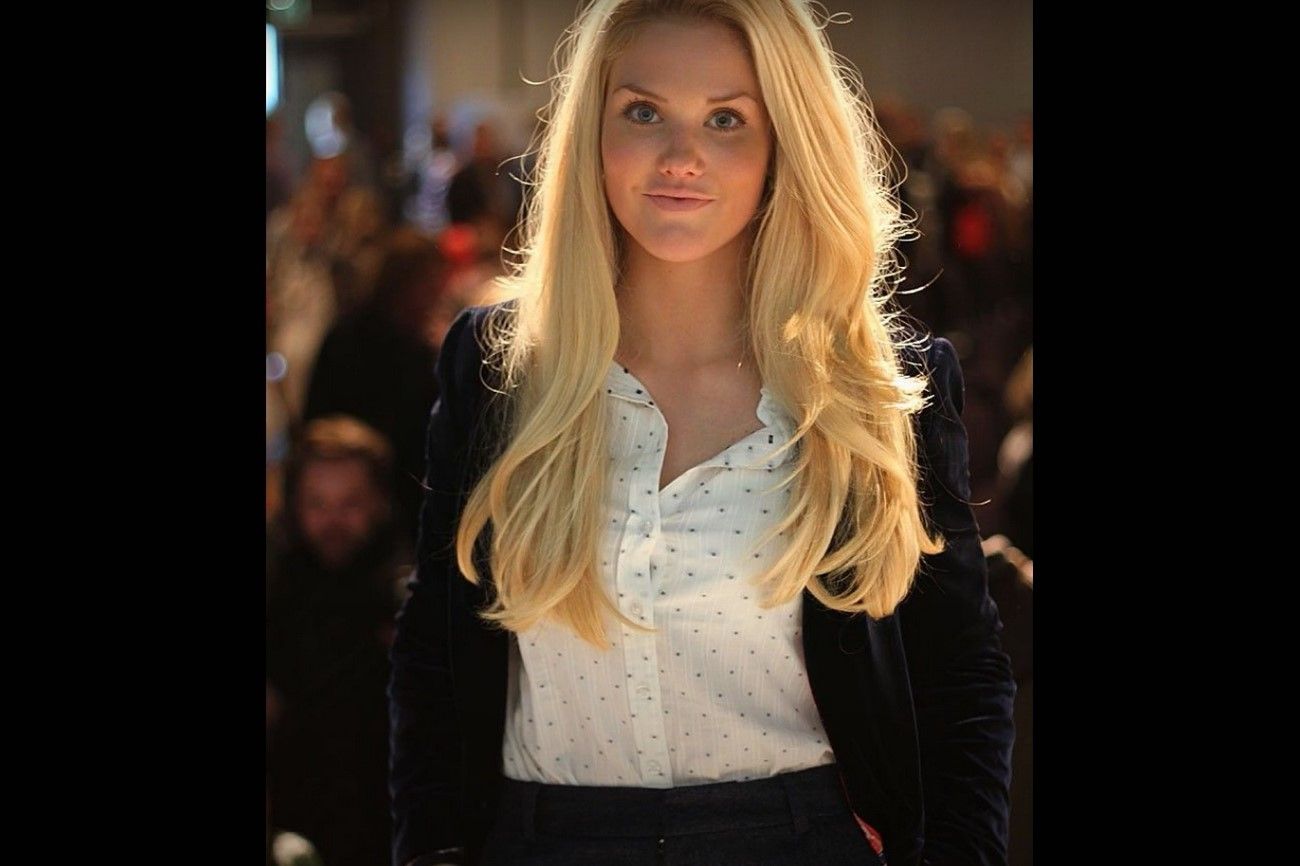 @Silje Norendal "Snowboard" Cool Player #174 | Female Sports/Female Sports/YouTube.com
Allison Stokke — Pole Vault
Allison Stokke is a multi-talented athlete who has made her mark in both track and field and the world of fitness modeling. Initially rising to prominence as a teenage pole vaulter, Stokke achieved remarkable success by breaking several American records during her high school years. She carried her passion for the sport into college, competing for the University of California, Berkeley's track team, the California Golden Bears. While Stokke excelled at the collegiate and national levels, her journey to the London Olympics in 2012 proved elusive as she narrowly missed qualifying. Despite this setback, Stokke has since diversified her career by venturing into the world of modeling. Her natural beauty and athletic prowess have positioned her as a sought-after fitness model.Through her modeling work, Stokke continues to inspire others with her dedication to fitness and her ability to showcase strength and athleticism.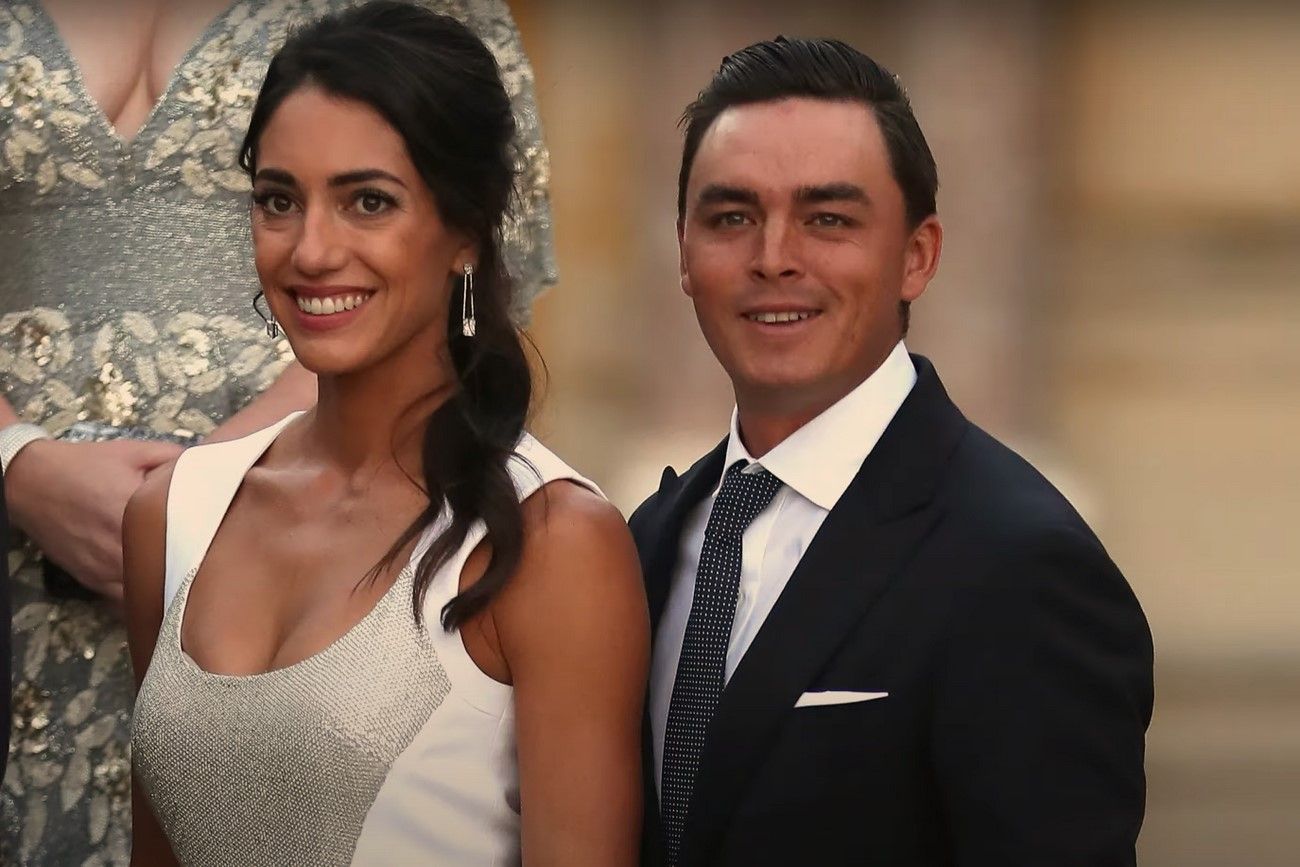 @Allison Stokke/Wiki4All/YouTube.com
Jennie Finch — Softball
Jennie Finch, hailed by Time Magazine as the iconic figure in softball history embarked on her softball journey at the tender age of five. She made her mark as a talented pitcher for various teams, including the Arizona Wildcats, the USA national softball team, and the Chicago Bandits. With her exceptional skills, Finch led the national team to victory, securing gold and silver medals in the 2004 and 2008 Olympics, respectively. While she retired from professional softball in 2010 to prioritize her family, Finch continued to contribute to the sport. In August 2011, she joined ESPN as a color commentator, lending her expertise and insight to both National Pro Fastpitch and college softball games.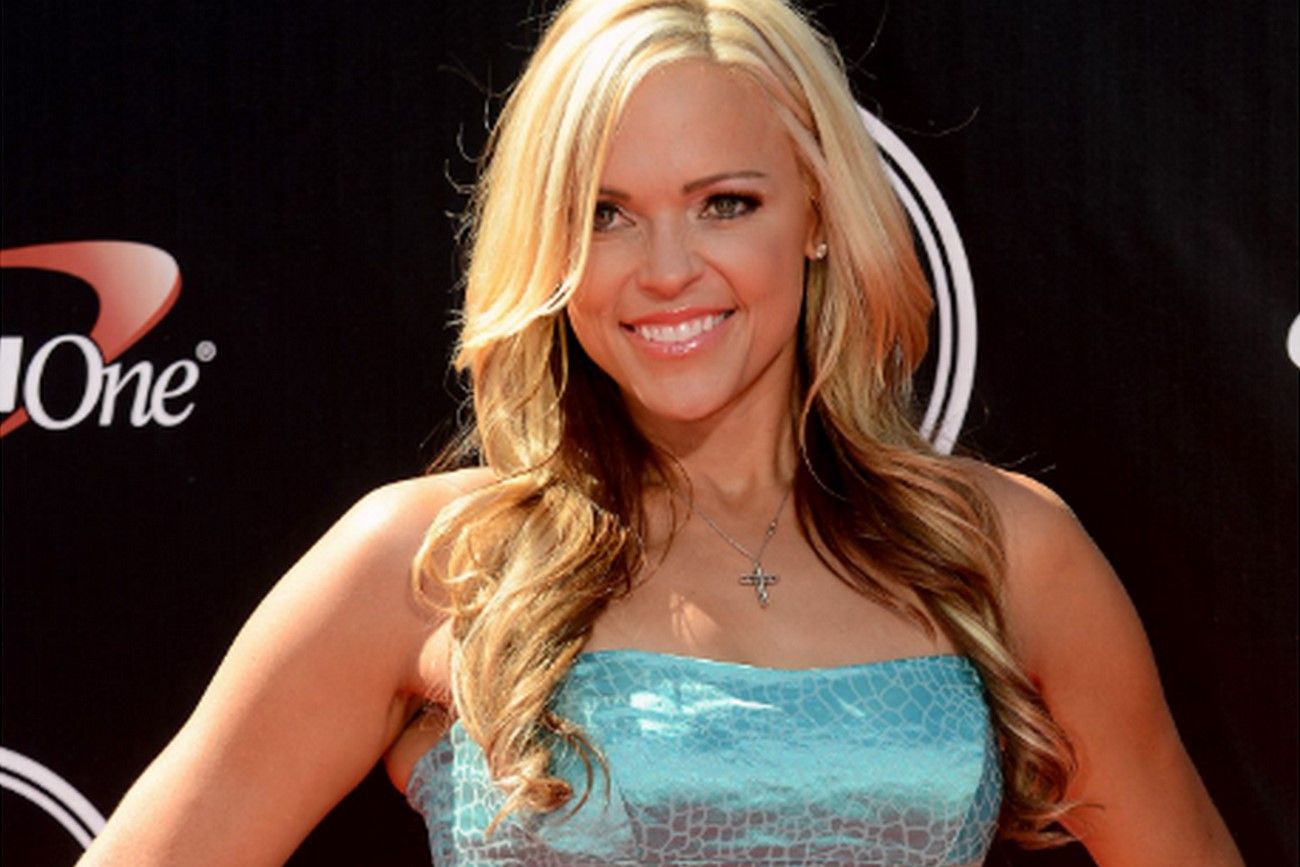 @Women's Softball Superstar Jennie Finch on Throwing a Rise Ball/DICK'S Sporting Goods/YouTube.com
Ronda Rousey — MMA
Ronda Rousey, famously known as "Rowdy Ronda Rousey," has achieved remarkable success and recognition both in the world of combat sports and professional wrestling. She has become a household name, transcending the boundaries of sports fandom. Rousey's journey began with an impressive achievement as the first American woman to win an Olympic medal in judo. After her Olympic success, Rousey transitioned to mixed martial arts (MMA) and made a significant impact in the Ultimate Fighting Championship (UFC). She quickly rose to prominence as one of the most dominant female fighters in the world, becoming the UFC Women's Bantamweight Champion. In 2018, Rousey embarked on a new chapter in her career by joining the world of professional wrestling and signing with WWE (World Wrestling Entertainment). Her transition to WWE was met with great enthusiasm, and she showcased her exceptional athleticism and charisma in the wrestling ring. Rousey's accomplishments extended further as she became the only woman to have won championships in both the UFC and WWE. Throughout her career, Ronda Rousey has left an indelible mark on combat sports and professional wrestling. Her groundbreaking achievements and charismatic presence have solidified her status as an iconic figure, admired by fans around the world.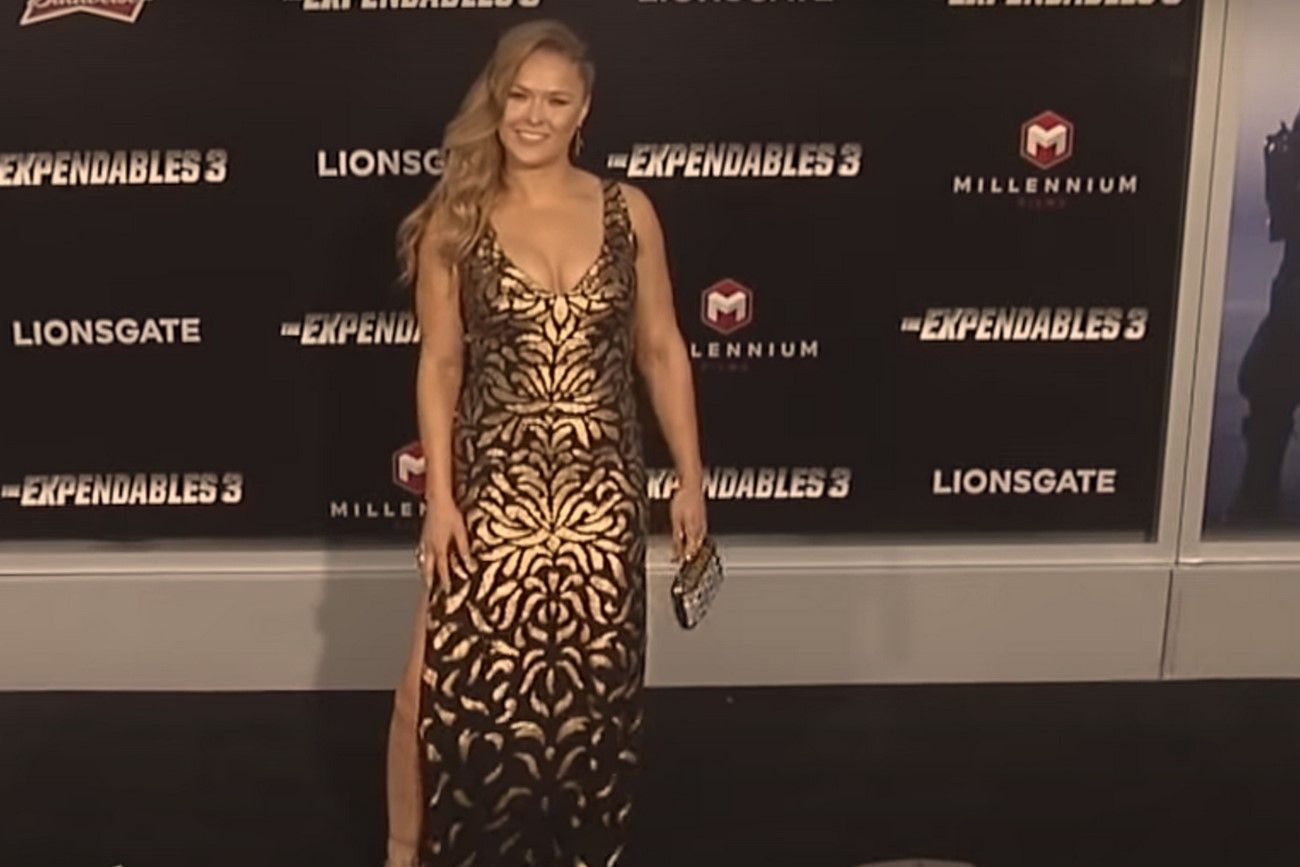 @Ronda Rousey The Expendables 3 Los Angeles Premiere/MaximoTV/YouTube.com
Carli Lloyd — Soccer
Carli Lloyd, an extraordinary soccer player, has been immersed in the sport since her early childhood. Her passion for the game was ignited after attending the inaugural match of the 1999 FIFA Women's World Cup. Since then, she has made remarkable strides in her career. Currently, Lloyd serves as a midfielder for both Sky Blue FC in the National Women's Soccer League and the United States women's national soccer team. Her accomplishments include being a two-time Olympic gold medalist and two-time FIFA Women's World Cup champion. Additionally, she has been honored as a two-time FIFA Player of the Year, further solidifying her exceptional talent and impact in the game. With her impressive record, Lloyd has represented her country as an Olympian on three occasions.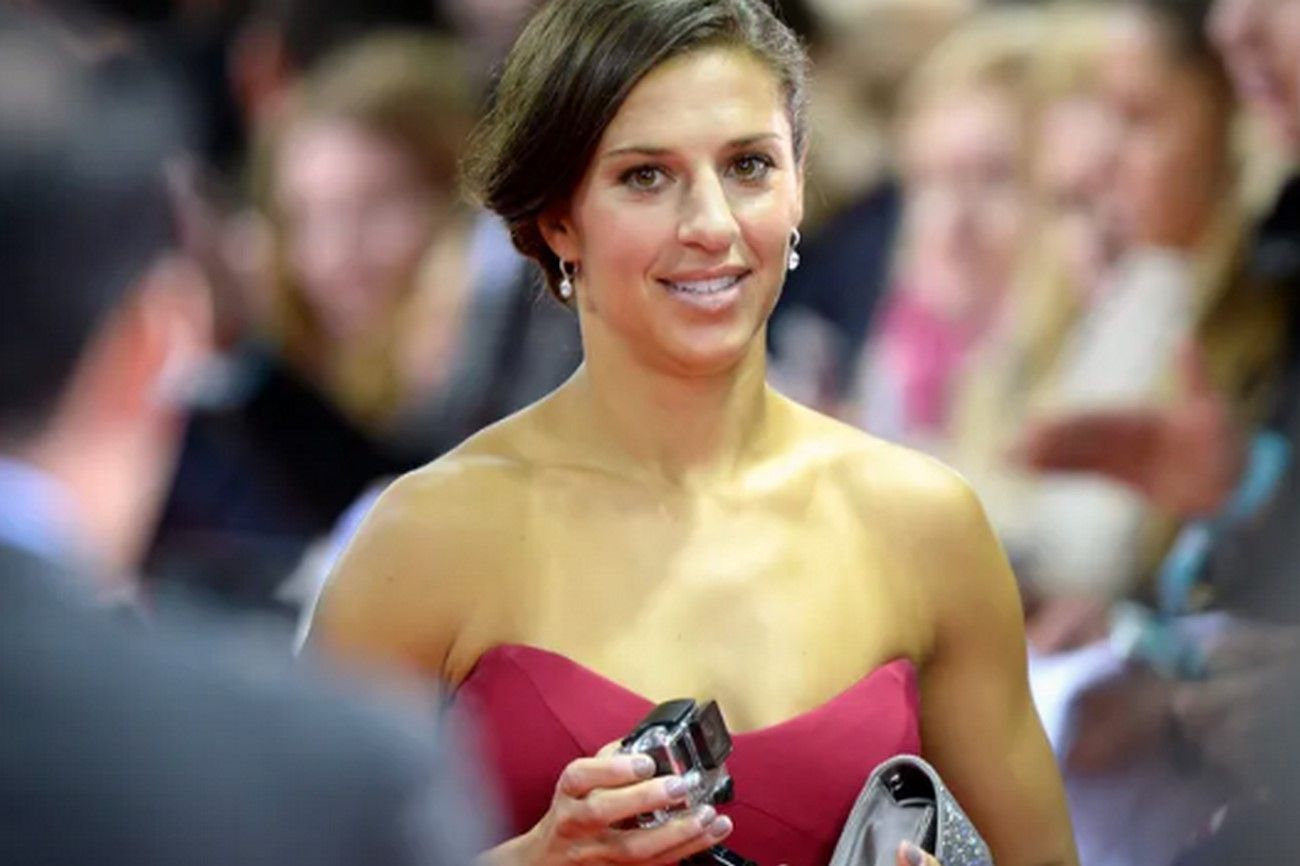 @Carli Lloyd Red Carpet Ballon d'or/@maharaja6281/YouTube.com
Megan Rapinoe — Soccer
Hailing from California, Megan Rapinoe is a renowned 37-year-old soccer player who has achieved superstar status. She showcases her skills as a winger and leads both OL Reign in the National Women's Soccer League (NWSL) and the United States national team as their captain. In 2019, Rapinoe was honored with the title of Best FIFA Women's Player, a testament to her exceptional talent. She has also secured gold medals with the national team at the 2012 London Summer Olympics and the 2015 and 2019 FIFA Women's World Cup. Beyond her remarkable athletic career, Rapinoe is recognized as a co-founder of the gender-neutral lifestyle brand, re-inc. Her accomplishments and activism make her a true inspiration on and off the field.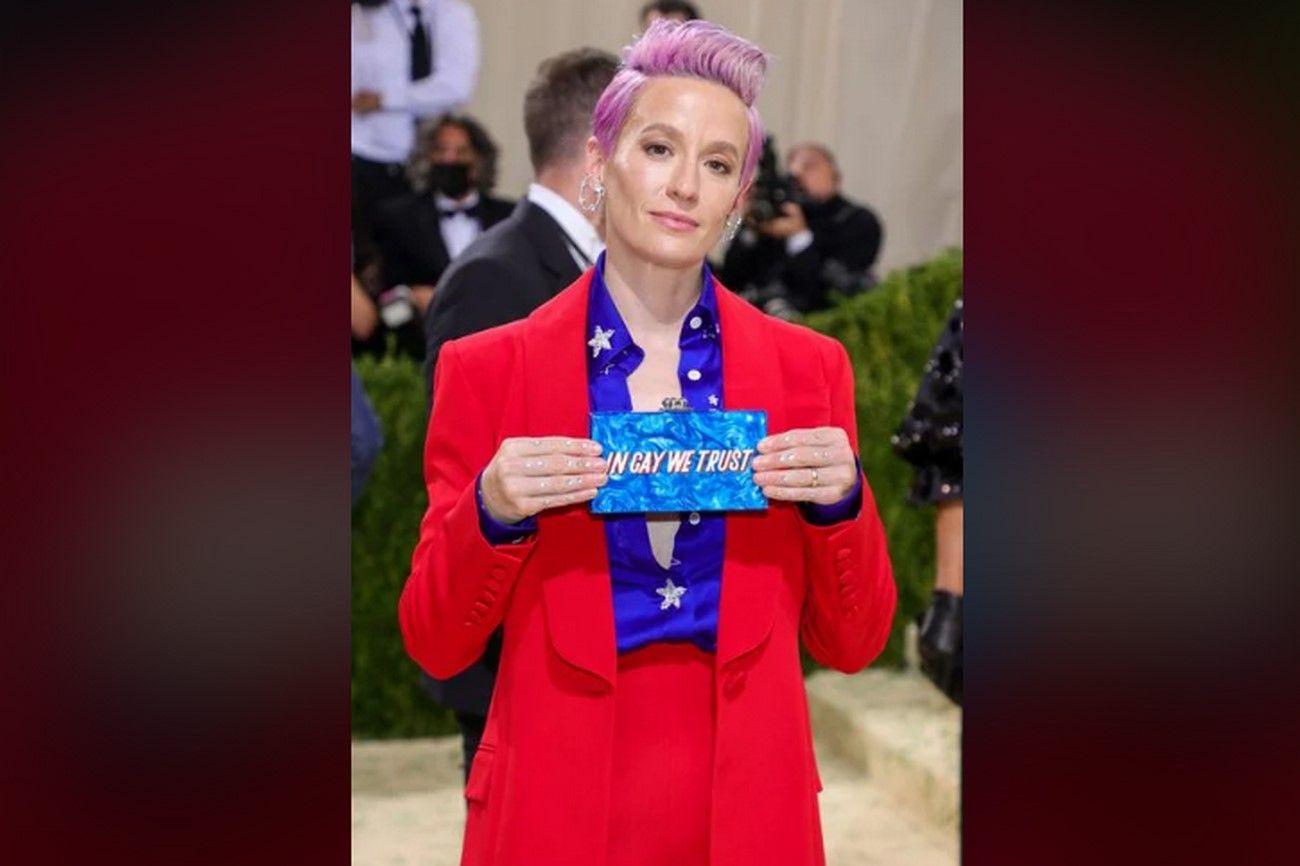 @Safe_Tune1475/reddit.com
Katie Ledecky — Swimming
At a mere 26 years of age, Katie Ledecky has established herself as an extraordinary professional competitive swimmer. Her accomplishments in the pool speak volumes, as she has secured an impressive tally of five Olympic gold medals and an astounding 15 world championship gold medals, setting a new record for the most gold medals won by a female swimmer in history. Such remarkable achievements led to Ledecky being honored with the prestigious Swimmer of the Year Award in 2018. Currently, Ledecky represents the DC Trident team as part of the International Swimming League. While her dedication primarily lies in the water, it's evident that Ledecky possesses a keen sense of fashion as well.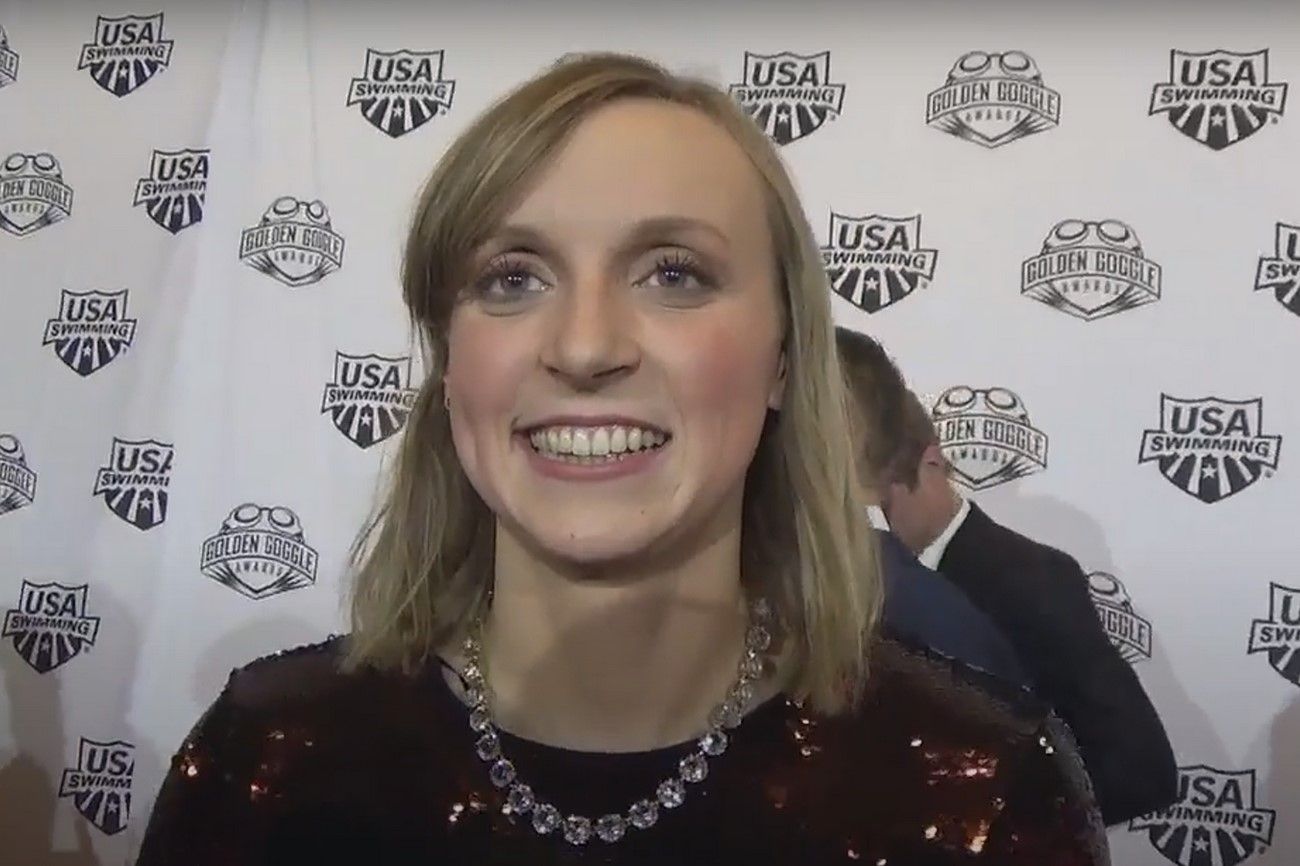 @Katie Ledecky on the Golden Goggles red carpet/Swimming World/YouTube.com